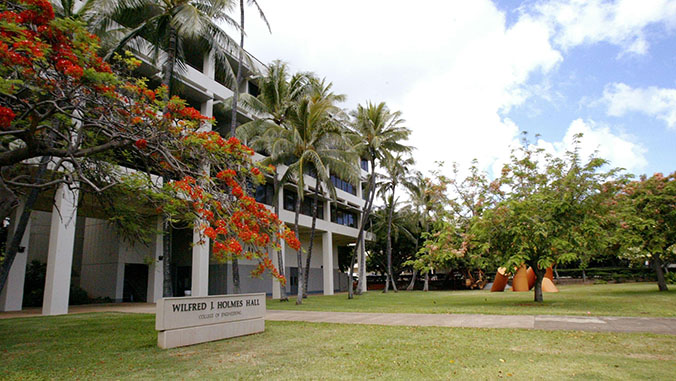 Brennon Morioka is being recommended to be the next dean of the University of Hawaiʻi at Mānoa College of Engineering by UH Mānoa Interim Vice Chancellor for Academic Affairs and Vice Chancellor of Research Michael Bruno. Formal action will be taken after the appointment is posted on the agenda of the UH Board of Regents meeting on January 31.The appointment would be effective April 1.
Morioka is currently the general manager for electrification of transportation at Hawaiian Electric Company (HECO) whose goal is to increase the adoption of electrified transport, including ground transportation and airport and harbor operations, into Hawaiʻi's cultural fabric. He was previously the deputy executive director for the Honolulu Authority for Rapid Transportation as well as the former director for the Hawaiʻi State Department of Transportation.
"Dr. Morioka impressed the search advisory committee and all stakeholders with his management experience, his passion for the college and the university and his deep connections to the community," said Bruno. "I believe that he possesses the leadership skills, background and experience to work effectively with the campus community and our external stakeholders to move the college to still higher levels of accomplishment and impact."
Morioka received his bachelor's and master's of science degrees in civil engineering from the University of California at Berkeley and completed his doctoral studies at UH Mānoa.
He began his career in higher education in 1995 as a graduate assistant/lecturer teaching undergraduate courses at the UH Mānoa College of Engineering. Morioka is a longtime member of the UH Mānoa College of Engineering Dean's Council and currently serves on the executive committee. Morioka is a licensed civil engineer in Hawaiʻi and California, and is a graduate of ʻIolani School.
"I am humbled and honored and incredibly grateful to be recommended as the next dean for the College of Engineering. As an alumnus and former instructor I am excited at this once-in-a-lifetime opportunity to lead the college that was so influential in my own life. We not only shape and nurture young minds as we develop the workforce Hawaiʻi needs, but the college of engineering also plays a critical role in advancing Hawaiʻi's economy in new directions based on innovation and emerging technologies."
Prior to his current position at HECO, Morioka served as vice president and area manager in the Honolulu Office of CH2M HILL, a global engineering company, and as the executive vice president of Shioi Construction. He serves as chair of the Pacific International Center for High Technology Research and on the boards of numerous community service and non-profit organizations including the U.S. Japan Council, ʻAhahui Koa Ānuenue (in support of the UH Mānoa Athletics Department), and as vice chair on the Aloha Stadium Authority.
Morioka will replace H. Ronald Riggs, who served as interim dean since 2016 when former dean Peter Crouch left to become the dean of College of Engineering at University of Texas at Arlington.