University of Hawaiʻi –West Oʻahu Assistant Professor of Creative Media/Transmedia Laurie Sumiye has been selected as a 2018–2020 fellow of the Firelight Documentary Lab, a mentoring program that attracts award-winning filmmakers from culturally diverse backgrounds.
As a fellow, Sumiye will receive one-on-one mentorship and help with funding, professional development and networking opportunities. She will be working to complete her feature-length documentary, A Paradise Lost, mentored by Penny Lane, award-winning filmmaker and associate professor of art and history at Colgate University.
"I'm honored and thrilled to become part of the Firelight Media family," Sumiye said.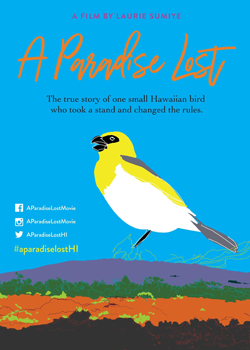 As a filmmaker Sumiye has won numerous awards for her documentary and has shown her work at film festivals in New York City. She has also exhibited her artwork in New York, Los Angeles, South Africa, São Paulo and Belfast.
Sumiye is one of a dozen filmmakers who were selected for the 18-month fellowship. The Firelight Documentary Lab was launched by the founders of Firelight Media, which was established in 2000 to address the deficit of films made by and about diverse communities, particularly people of color.
Sumiye hopes to finish A Paradise Lost, her first feature-length documentary, during the fellowship. The film tells the story about the endangered Palila, a Hawaiian honeycreeper that in 1979 sued (with the help of the Sierra Club of Hawaiʻi) the state Department of Land and Natural Resources about threats to its Maunakea habitat. The Palila won the landmark case, though its survival is still in question. The documentary will chronicle the bird's plight by following a Native Hawaiian conservationist striving to save the Palila through restoration of its habitat lost to climate change and human impact.
"The fellowship will give the the film a boost of momentum through fundraising, production, post production and distribution," Sumiye said.
Read more about Sumiye and her documentary at E Kamakani Hou.
—By Greg Wiles