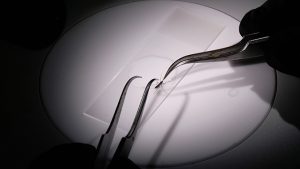 The buzz over a recent $10.4-million grant to five junior researchers at the University of Hawaiʻi at Mānoa is about much more than mosquitoes.
The funds from the National Institutes of Health Centers of Biomedical Research Excellence (COBRE) support the first center focusing on the interface between environmental microbiomes and human health.
Microbiomes are communities of microorganisms that live on and in people, animals, plants, soil, oceans and the atmosphere.
"The paradigm that this center grant operates under is essentially that human health is inextricably linked to the environment. And the specific hypothesis that the investigators in the center pursue are formed by this idea that microbes, microorganisms mediate this relationship," said Assistant Professor Matthew Medeiros.
Medeiros is one of a diverse group of junior researchers, who put a herculean effort into securing the prestigious five-year grant. Those scientists and their projects include:
Kiana Frank, assistant professor, Pacific Biosciences Research Center (PBRC), who is evaluating how land use patterns and environmental factors influence the diversity, abundance, virulence and persistence of waterborne microbial threats to Hawaiian watersheds.
Matthew Medeiros, PBRC assistant professor, who is looking at how microbes colonize mosquitoes in nature and how this pattern of colonization might impact disease transmission.
Floyd Reed, associate professor, Department of Biology, who is investigating the effect of the mosquito's normal microbiota on its carriage of Wolbachia, and the ability of this bacterium to curb the carriage of human pathogens by the mosquito.
Joanne Yew, PBRC assistant professor, who is using the powerful genetic model Drosophila (small fruit flies) to study the interplay between genetics and the environment.
Masato Yoshizawa, assistant professor, Department of Biology, who is researching how microbiomes influence autism behavior.
Many of the COBRE researchers and their students are addressing two critical and intertwined health problems: the deteriorating environment and the current spread of diseases.
Outreach to the Native Hawaiian community is a significant part of the COBRE grant. Every manuscript resulting from this grant will be accompanied by a 2–3 minute video in both English and ʻōlelo Hawaiʻi about the research conclusion and why it is important to the Native Hawaiian Pacific Islander community.
"As a Native Hawaiian, for me, this grant is super exciting, because it totally aligns with my traditional ideals of management from mauka to makai, and assessing all the different layers of management and how that influences the whole system from microbes all the way up to people," said Frank.
It is hoped that the COBRE research projects will help to inform public health policy in Hawaiʻi and beyond for years to come.
—By Kelli Trifonovitch