The University of Hawaiʻi at Mānoa plans to transform Sinclair Library into a state-of-the-art student success center to improve the student experience by providing easy access to academic advising, campus services and modern spaces for studying and collaboration.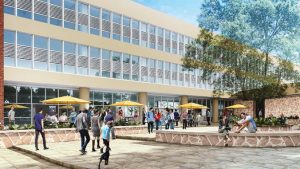 The planning has already begun with a $700,000 state appropriation, and Gov. David Ige has included the university's $41 million request for the project in his proposed budget to the state Legislature. Upcoming meetings will be held with university stakeholders including faculty, staff and students to develop goals and create a vision of the elements a student success center should incorporate.
When completed, Sinclair Library will be converted into a modern, inviting and efficient space that encourages students to remain on campus in between classes and after hours; converting that corner of campus into a vibrant hub of student interaction. Students will find a comprehensive environment to study individually, collaborate in groups, seek advising/tutoring and find information on transferring in and out of the university.
"This is a really exciting project because it supports our students directly," said Jan Gouveia, UH vice president for administration. "We're all really excited to get this thing going, and it will have a fresh look, but embody the feel of the campus. We want it to be a safe, innovative and exciting place for students to hang out with each other."
Sinclair Library, adjacent to Hemenway Hall, Campus Center and the Warrior Recreation Center, is in a prime location for a student success center, making it the perfect candidate to undergo modernization and deliver the type of space needed to keep UH Mānoa competitive with other universities.
"Our discussions with faculty, staff and students have all pointed to the need for a modern, collaborative space in which students can learn from our advisors, and from each other," said Vice Chancellor for Research and Interim Vice Chancellor for Academic Affairs Michael Bruno. "The Mānoa community is very excited about this project."
With the increase of video-conferencing, on-demand video learning and access to online resource materials, the library's historical function as a repository for books and reference materials continues to diminish. Sinclair Library's future role as a student success center requires reconfiguring the spaces vacated by books to accommodate the current student demographic and demands for flexible learning opportunities.
"University Librarian Monica Ghosh embraced the modern way of viewing library spaces to be more student centric," said Gouveia. "She was instrumental in developing the vision of consolidating all of the books into Hamilton Library and free up that space to transform Sinclair into a student-dedicated center."
"Our Facilities team and in particular our Library team have been fantastic partners every step of the way," said Bruno.