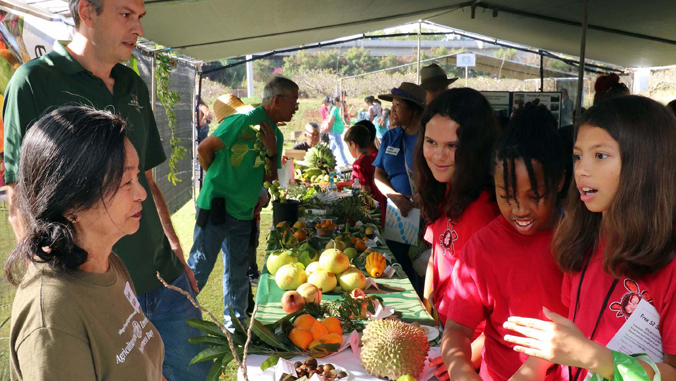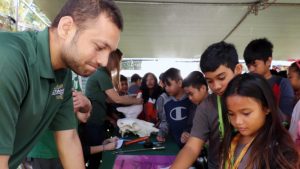 Questions like "Can we eat all of these plants?," "Does this bean really taste like ice cream?" and "Could I help grow food when I grow up?" were answered at the University of Hawaiʻi Urban Garden Center's 2019 Agriculture and Environmental Awareness Day on February 7.
Nearly 400 elementary school students gained hands-on lessons in food production and learned ways to protect the environment at the annual event.
Agriculture and Environmental Awareness Day shines a light on Hawaiʻi's agricultural industry and shows keiki the impact of food production on communities and the environment. About 25 presenters and exhibitors joined the UH Mānoa College of Tropical Agriculture and Human Resources (CTAHR) with interactive exhibits, presentations on xeriscape gardening and fruit growing, and displays on nutrition for wellness and invasive species.
The 30-acre Urban Garden Center in Pearl City is owned and operated by CTAHR. It is open year round and hosts a wide range of tours and functions.
"The kids had so much fun today," said Kalani Matsumura of CTAHR's Master Gardener program. "They like trying something extreme, like the Otaheite gooseberry, which is a very sour fruit. Some kept coming back for more."
"I hope they take away a greater awareness about the world around them, where their food comes from, the impacts we have on the environment and some of the very exciting careers in agriculture," Matsumura added. "At CTAHR, we work from the ocean to the tops of the mountains and everything in between. Our mission is to educate everyone in Hawaiʻi, from children to adults, about agriculture and environment."
"Agriculture and Environmental Awareness Day brings real-world context to lessons learned in the classroom," added Kristin Matsumoto of CTAHR's youth science GENE-ius Day Program. "We're creating greater awareness and understanding in our community, and introducing students to career pathways in agriculture and environmental studies on Oʻahu and throughout Hawaiʻi."