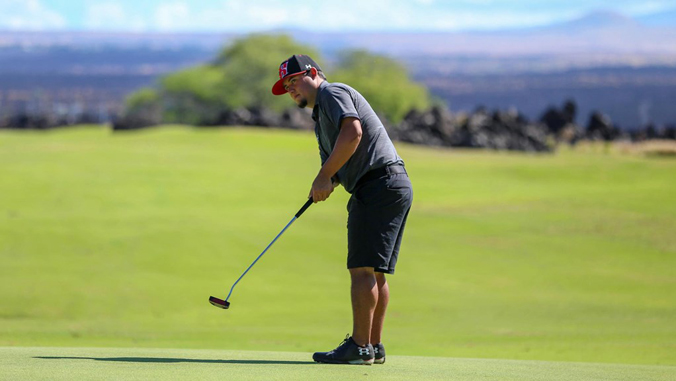 A golfer and basketball player, both of whom had impressive athletic feats last week, have been named the University of Hawaiʻi at Hilo Pepsi Athletes of the Week.
Jared Kinoshita
Kinoshita went tee-to-tee this past week at the 28th annual Amer Ari Intercollegiate Golf Tournament. Playing in a field that featured all NCAA Division I golfers and UH Hilo, Kinoshita finished 12 out of 109. The senior shot a 66 on the first day, and completed the three rounds with -7, shooting a two-under 70 on the final day.
Allie Navarette
Sophomore Navarette had another pair of big games—one in a Vulcan win and another in a impressive upset attempt. In the 84–51 victory over Academy of Art University, she had a career-high 32 points and 12 rebounds. Against second-place Dominican, she went toe-to-toe with PacWest Player of the Year, Natalie Diaz, and came away with 18 points and 10 rebounds—her 11th double-double of the year. The Vulcans led the Penguins in the fourth quarter before the title contender pulled away late in the game.
For more go to UH Hilo athletics.