A new living reef exhibit at the University of Hawaiʻi Waikīkī Aquarium highlights cutting-edge coral research done by six researchers at the UH Mānoa. It features work on both soft and stony coral like bubble coral and potato-chip coral.
"It shows really, I think for the first time anywhere, individual coral species separated on their own, living and with detailed explanations of each," said Michael Bruno, UH Mānoa vice chancellor for research.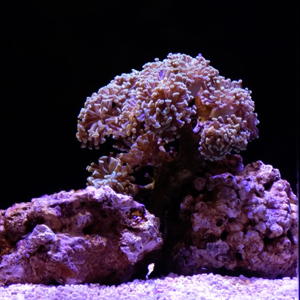 The exhibit showcases 12 wall tanks featuring a living reef ecosystem reminiscent of those found in the Pacific Ocean. In addition to the tanks, an interactive kiosk with state-of-the-art technology will offer further information on coral ecology and physiology, marine ecosystems, and much more. A 3D educational polyp sculpture showing the smallest building block of a coral colony gives visitors an in-depth look into the structure of a coral colony.
"I thought this exhibit was cool, it has all of the different type of corals," said 10-year-old Waiola Deltoro.
"It'll educate I hope and inspire people to take better care of the reefs around the islands," said Andrew Rossiter, Waikīkī Aquarium director.
The exhibit is dedicated to the late Ruth Gates, who was director and researcher at the Hawaiʻi Institute of Marine Biology and world-renowned coral expert. Gates was a tireless innovator and advocate for coral reef conservation who contributed seminal research to understanding coral reef biology and the impacts of climate change on reef ecosystems.
"I think she would love it but she'd be embarrassed because you know she didn't like that kind of attention, but I think that she would love that it's being celebrated," noted wife Robin Burton-Gates.
Gates' passion for sharing new scientific discoveries and encouraging the global community to contribute to coral reef conservation came through in her many public speaking events, in the Emmy award-winning film Chasing Coral that featured her research, and in all that she did to communicate the urgency of climate change impacts on marine ecosystems.
The Waikīkī Aquarium also partnered with the NOAA Office of Coastal Resource Management to provide current insights into coral.