Mapping out transit-oriented development (TOD) for the future Waipahu rail station. Looking into the transformation of an empty annex building at the University of Hawaiʻi Cancer Center, possibly into a center for clinical trials. And turning the Lake Wilson Freshwater Park in Wahiawā into an ecological, social, cultural and historic gem.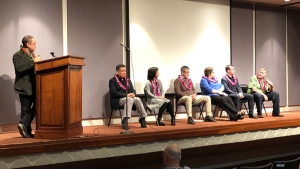 These are just three projects that multiple UH units, led by the Community Design Center (UHCDC) in the School of Architecture at UH Mānoa, are working on with state agencies to enhance research, planning and design services throughout the state. "Proof of Concept: Public-Private Partnerships at Work" featured presentations and a panel discussion on February 19 at the state Capitol Auditorium.
"We are happy to represent the university's capacity to be a multi-disciplinary problem-solving resource, and are committed to make a difference through design," said Cathi Ho Schar, UHCDC director. "This event focused on sharing the breadth and depth of how our faculty and students, along with agency partners, are addressing the critical problems facing our state and built environments."
TOD development
UHCDC and the Department of Urban and Regional Planning (DURP) in the College of Social Sciences are working on a framework to develop state parcels surrounding the Waipahu Pouhala rail station. DURP Assistant Professor Suwan Shen and Architecture Associate Professor Hyoung-June Park are focusing on transportation and infrastructure studies and a digital optimization model for the area.
UH Cancer Center
The future buildout of an empty annex building at the UH Cancer Center could be transformed into a Phase I clinical trials center and community asset, according to Brian Strawn, UHCDC senior researcher. In addition to analysis and design, Strawn's team built a full-scale prototype of the clinical trials suite.
Lake Wilson improvements
Architecture Associate Professor Judith Stilgenbauer presented her strategies to protect and enhance the Lake Wilson Freshwater Park, which would also provide public open space amenities for the Central Oʻahu community. She received the 2018 Poʻokela Award from the American Society of Landscape Architects.