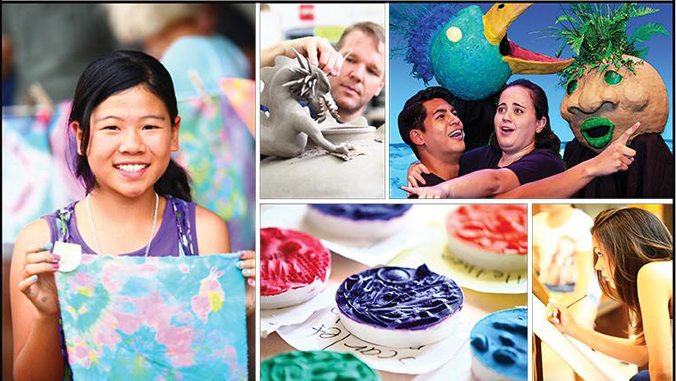 "Building STEAM" is the theme at Palikū Arts Festival, a unique interactive arts experience set for Saturday, April 6, 10 a.m.–4 p.m. in and around the Palikū Theatre, plaza and art and science spaces on the Windward Community College campus in Kāneʻohe. The festival is free to the public and open to all ages.
"This year's theme invites people to note the common ground between the arts and the sciences—the art of science and the science of art," said festival co-chair Ben Moffat. "Scientists and artists have more in common than many people think. For example, scientists often use intuition in their research, and they have to be creative in designing experiments—and artists often geek-out about their materials and techniques."
Attendees are encouraged to come in costume or festive clothing, or dress-up at the festival and join in the "Art Strut" at 1:11 p.m. The festival's emphasis is on "playing" and exploring artful interests that intersect with science. Windward CC art professors, instructors and their students will be on hand (with supplies provided) to assist those who want to express their creativity in a variety of ways—from painting, drawing and sculpting to moving, acting or making music, prints, poetry and prose. All art supplies are provided free of charge!
A sampling of creative activities include:
Tie-dye making in front of the gallery with Toni Martin
Gyotaku fish printing with Michelle Smith
Robot making with Sarah Hadmack (ages 2 and older)
Seabird discovery and relief printing with Oikonos
Blue Zones Project spin bike
Ceramics activity and demonstration with Jake Jackson
Piano open lab
Open drawing studio–draw or have your portrait drawn
Open painting studio
Woodcarving with Jordan Souza
3D sculpture with Bryce Meyers
Improvisation performance with students of director Taurie Kinoshita (ages 4 and up)
Screenwriting and life writing workshops with Desiree Poteet
'Write a Poem, Make a Book' workshop with Susan St. John
T-shirt printing

Hakipuʻu

Learning Center Arts
Stage performers and much more!
The Art of Climate Change:

Poet Kathryn Takara and dancer Sequoia Brown
Peter Rockford Espiritu and Tau
Slam poet Jessica Carpenter
Tap dance
Palikū Theatre
Enjoy two free performances of a world premiere Hawaiian Youth Theatre play, The Epic Voyage of Kāneʻāpua, based on Hawaiian folk tales written and directed by Moses Goods, and performed by Windward CC Theatre 260 students and alumni. Great for all ages. Performances are at 11 a.m. and 2 p.m. (45 minutes).
Gallery ʻIolani
Free at Gallery ʻIolani, Brave New World, a new exhibit featuring young artists who studied at the community college and are now professional artists. 10 a.m.–4 p.m.
Imaginarium (special festival entry fees)
The Hōkūlani Imaginarium will be showing a family-friendly fulldome show Totality (lunar and solar eclipses) for a nominal fee of $3 (30 minutes) at 12:30 p.m. plus a free show Music of the Spheres at 1:30 and 2:30 p.m.
Hale ʻImiloa (science building)
Displays of deep-sea fish X-rays, volcano eruptions, NASA rocket and the Hōkūleʻa voyaging canoe. Activities for kids include gyotaku fish printing and plant pressing and fun with chemistry.
Musical entertainment
On the outdoor stage, a variety of musical acts will perform, including Kamuela Kimokeo and Windward CC students, the Royal Hawaiian Band, BYU–Hawaiʻi's Shaka Steel Band, The Jeff Ho and Mike Kato Jazz Experience and other Windward area talent.
ʻOno food will be available from:
Erin's Shave Ice
The Hub Coffee Shop at the Windward CC library
Big City Diner
GP Hawaiian Foods
The Hub Coffee Shops
Uncle Lani's Poi Mochi
Craft booths include:
Hauʻoli

Henna
Butterfly Kisses
For more information, contact Palikū Arts Festival co-chairs Ben Moffat at (808) 724-1808 or ben517@hotmail.com or So Jin Kimura at sojink@hawaii.edu.
—By Bonnie Beatson