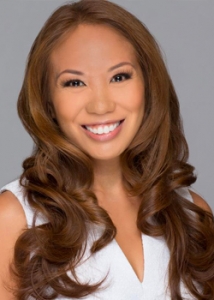 Hawaiʻi Business magazine selected University of Hawaiʻi at Mānoa's Avis Poai as one of the "20 for the Next 20." Poai serves as director of archives, legal history and student outreach at the William S. Richardson School of Law's Ka Huli Ao Center for Excellence in Native Hawaiian Law.
Poai was honored for her extensive work on Punawaiola, a bilingual website containing Hawaiian kingdom legal and historical materials. In November 2018, Punawaiola received an international award for archives excellence from the Association of Tribal Archives Libraries and Museums.
She has also been recognized for her outreach work with charter and immersion schools.
Each spring, Hawaiʻi Business honors 20 members of the community who have shown leadership in a wide variety of important areas, and who have the potential to continue their important work over the next two decades.
"She's doing great things for not only our lahui, our Hawaiian community, but making digitized documents available and searchable," Kale Hannahs, digital archivist for the Office of Hawaiian Affairs, told the magazine. "It's a huge advantage, and it helps our mission in further educating the general community on the history of Hawaiʻi."
—By Beverly Creamer