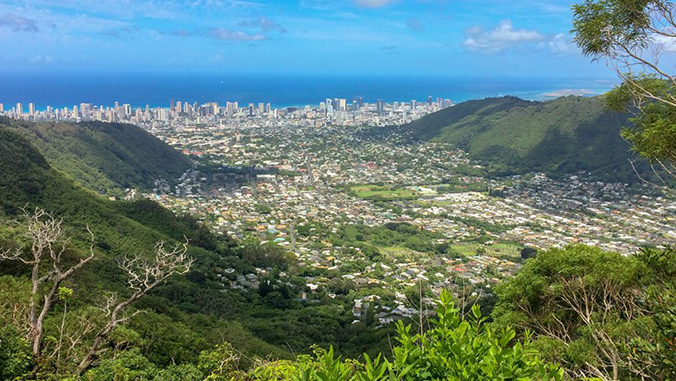 University of Hawaiʻi campuses are celebrating Earth Month with events scheduled throughout April, and on Earth Day, April 22.
UH Hilo and
Hawaiʻi

Community College

UH Hilo and Hawaiʻi CC campuses celebrate with the annual Earth Day Fair on Friday, April 26, 8:30 a.m.–1:30 p.m. at UH Hilo's Campus Center Plaza and Library Lanai.

The Earth Day celebration will include educational videos, informational exhibits and science demonstrations, guest speakers, a food sustainability panel, environmental science skill-building workshops, dances, hula, storytellers, face painting, campus garden tours, an environmental career fair, unmanned aerial vehicle flight simulators and more.

Free plants, fruits and other giveaways will be available throughout the day. For more information contact Claudia Wilcox-Boucher at claudiab@hawaii.edu.
UH Mānoa
UH Mānoa celebrates with an Earth Day Festival "He Aloha Ka Mauli Ola O Ka ʻĀina– at the Campus Center Courtyard, Tuesday, April 23, 10 a.m.–5 p.m. For more information contact Savanah Adler at sadler3@hawaii.edu or Daven Chang at djchang@hawaii.edu.
UH Mānoa Dining Services presents Kākoʻo Kamaʻāina, Sodexo Hawaiʻi's local produce culinary competition, on Thursday, April 11, 5:30–7:30 p.m. at the Campus Center. This event will highlight locally grown fruits and vegetables in dishes created by six of Sodexo Hawaiʻi's best chefs.
UH West
Oʻahu
UH West Oʻahu celebrates Earth Day on Monday, April 22, 10 a.m.–2 p.m. in the plaza with activities, games, recycling information and free fruit. For more information contact Leila Wai Shimokawa at lwai@hawaii.edu.
Honolulu Community College
Honolulu Community College will hold their 8th annual Hoʻolauleʻa celebrating Ka māla o Niuhelewai, Hawaiian Culture and Sustainability, April 17, 9 a.m.–1 p.m. Kūlana Hawaiʻi: Hawaiian Programs Division, Student Life and the Sustainability Committee's Showcase collaborate to present this annual celebration. This year's event will feature interactive activities, information exhibitors, contests, food and more
Kapiʻolani

Community College

Kapiʻolani CC's Earth Week, April 8–12, celebrates with scheduled events throughout each day, including sustainability presentations, guest speakers, recruitment of blood drive donors, trivia, games with prizes and more.

For more information contact Denise Pierson at dpierson@hawaii.edu.
Kauaʻi

Community College

Kauaʻi CC celebrates Earth Month by hosting a live radio broadcast, titled "Kava Konvosations," on Thursdays, April 4, 11, 18, 25, 4–6 p.m. in the OSC lobby.

Hoʻouluwehi in partnership with Kauaʻi Community Radio will present talk story sessions bringing stakeholders together to highlight issues including food and farming, climate change and more.

Kauaʻi CC will celebrate Earth Week April 22–26 with students exhibitions and more. See the full list of events on the Kauaʻi CC website.
Leeward Community College
Leeward CC celebrates Earth Month with activities and booths promoting sustainability, Wednesday, April 17, 10 a.m.–1 p.m. There will be student games and presentations, kuʻi kalo, community farms, a composting workshop, ʻōpala survey and audit, museum of modern garbage and more.
A plant sale and ʻōhiʻa care workshop are set for lower campus on Thursday, April 18, 11 a.m.–1 p.m. and an Earth Day tree planting will take place on Monday, April 22, 9 a.m.–1 p.m. at the Leeward CC campus. For more information see the Leeward CC events calendar.
UH Maui College
UH Maui College celebrates Earth Day on Tuesday, April 16, 11 a.m.–3 p.m. The event will highlight UH Maui College's zero waste plans as part of the sustainability sub-committee's efforts. Community and conservation groups will have outreach booths on the great lawn. For more information contact Amy Campbell at afrate@hawaii.edu.
—By Sarah Hendrix