The University of Hawaiʻi at Hilo hosted the 11th annual Tropical Conservation Biology and Environmental Science (TCBES) Research Symposium on April 11 and 12. The 2019 event was organized by the TCBES Club, whose members are graduate students in the program.
The theme of this year's conference, "Emerging techniques for research and conservation in a changing planet," was reflected in student research presentations. They highlighted the importance of harnessing cutting-edge science and technology for the benefit of ecosystems that are under stress from climate change and other man-made threats.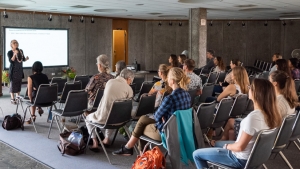 A panel of judges awarded prizes for the best presentations.
Winners
Best 5-minute talk: Nicolas Vanderzyl, UH Hilo
Best graduate 15-minute talk: Karen Gallardo, UH Hilo
Best undergraduate 15-minute talk: Tyler Gerken, UH Hilo
Best poster: Kayla Caliboso, Leeward Community College
Honorable mentions: Duke Escobar, Keinan Agonias, Michael Morrissey and Misa Webber at UH Hilo and Valeria Alicea-Colon, Leeward CC
The conference featured keynote speakers Paula Ayotte, marine biologist with the National Oceanic and Atmospheric Administration, and John Burns, coral biologist and UH Hilo assistant professor of marine science.
"The TCBES symposium provides an excellent platform for undergraduate and graduate students to showcase their research activities," said Burns. "Our students work across a dynamic range of environmental systems and perform some truly incredible work, and this symposium plays a key role in allowing them to share their findings with broader audiences."
For more on the symposium, go to UH Hilo Stories.
–Written by Leah Sherwood, a graduate student in the tropical conservation biology and environmental science program at UH Hilo.