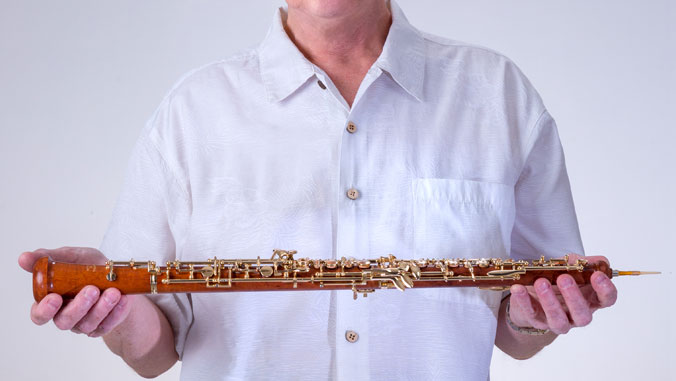 The world's first and only handcrafted oboe made of Hawaiian kauila wood makes its debut next month in an oboe concerto composed by nationally known composer and University of Hawaiʻi–West Oʻahu Associate Professor Jon Magnussen. The set of performances features UH Mānoa music lecturer and oboist J. Scott Janusch.
"I feel privileged and honored to finally be able to share the culmination of two years' effort to bring this project to life," said Janusch.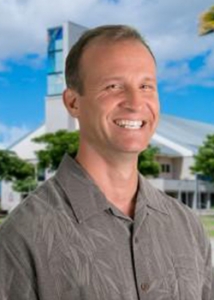 Magnussen was commissioned to compose Nā Kau ʻElua | The Two Seasons for Janusch and the Hawaiian Oboe Legacy Project (HOLP), which involved the crafting of an oboe out of kauila wood thought to be 200- to 300-years old. Kauila wood is rare and culturally significant.
Magnussen also helped in researching the historic importance of the wood, which is one of Hawaiʻi's hardest native woods and was used for the making of everyday objects including farming tools, kapa beaters and weapons.
HOLP was envisioned by Janusch as a gift to the islands where he has spent the majority of his professional life as a celebrated oboist, teacher and supporter of local arts. The kauila wood used is from Kauaʻi and was harvested more than 25 years ago by Konohiki Ed Kaiwi in a rural area near Waimea Canyon. Kaiwi's longtime friend, noted luthier Michael Sussman, was given a portion of this wood. Once he learned of Janusch's idea, he agreed to gift the remaining wood to HOLP and milled two billets from the tree trunk. These billets were taken to the Worthing factory of Howarth of London—a world-renowned oboe maker—where the Hawaiian oboe was completed in about two years.
Nā Kau

ʻElua

reflects the lunar moons of the Hawaiian year
The concerto is a 12-movement work for string quartet, piano, Hawaiian and western percussion instruments and a solo oboe. Magnussen paid heed to the kauila wood's age by composing Nā Kau ʻElua | The Two Seasons using harmonies and melodies from Antonio Vivaldi's The Four Seasons (1721), a concerto written roughly around the same time as when the oboe's wood began to grow.
The 12-movement design also reflects the 12 lunar moons of the Hawaiian year, which is divided into two seasons: wet (kau hoʻoilo) and dry (kau wela). Each of the movements features a concept or object traditionally made of kauila wood. Plans for the instrument call for Live Music Awareness, the fiscal sponsor of HOLP, to care for the oboe and make it available for generations to come.
The premiere performance of Nā Kau ʻElua | The Two Seasons and the debut of HOLP will be part of Chamber Music Hawaiʻi's season finale during a pair of performances in May. Janusch, who is the principal oboist for the Hawaiʻi Symphony Orchestra, will perform with the Galliard String Quartet, UH Mānoa Professor of Music Thomas Yee and Jordan Schifino, UH Mānoa lecturer and Hawaiʻi Symphony Orchestra percussionist.
The performances are scheduled for:
Monday, May 6: Magnussen's composition and the Mozart Oboe Quartet will be performed at 7:30 p.m. at the Palikū Theatre at Windward Community College.
Monday, May 20: The program repeats. 7:30 p.m., Doris Duke Theatre at the Honolulu Museum of Art.
General admission tickets are $35, but students can attend free with valid ID. For ticket information, see www.chambermusichawaii.org.
To read the full story, go to UH West Oʻahu's E Kamakani Hou article.
To see a promotional video about the Hawaiian Oboe Legacy Project, click here.