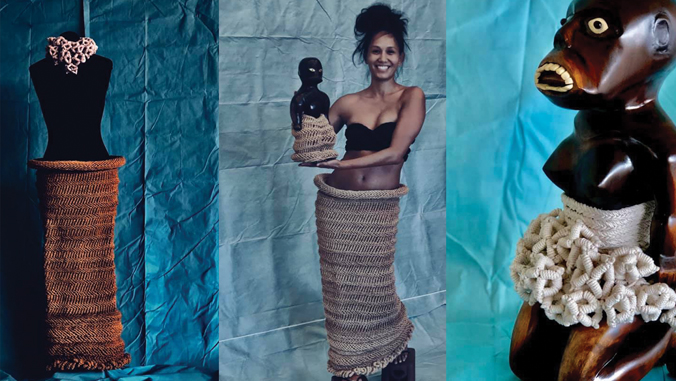 Ancient Hawaiian knot-tying techniques have taken a new twist in the artwork of Taupōuri Tangarō, professor of Hawaiian studies at Hawaiʻi Community College. Some of his creations are part of Hawaiʻi's largest contemporary art festival, the Honolulu Biennial 2019, which runs until May 5 at multiple sites.
Tangarō has 10 art pieces on exhibition. Nine are at the Hub in Ward Village, and one is at Neiman Marcus in Ala Moana Center. The artwork is derived from kōkōpuʻupuʻu, which are traditional carrying nets. Tangarō has taken the knot-tying techniques used to create kōkōpuʻupuʻu and applied them to skirts and sashes, giving the old technique a contemporary spin.
"It's traditional in many points but really innovative in the sense that this is not exactly what it looked like in the old days," said Tangarō. "We've taken something very old and reordered it."
The blend of tradition and innovation is at the heart of a University of Hawaiʻi initiative called "Hawaiʻi Papa O Ke Ao," which seeks to make UH a leader in indigenous education. Representatives from each UH campus are tasked with developing, implementing and assessing strategic actions to achieve this goal.
"Like kōkōpuʻupuʻu, we come from well-defined cultural practices, but with innovation we can take those cultural practices and introduce them in a new light," said Tangarō.
—By Thatcher Moats