There is an environmental dark side to the sunny graduation season. An estimated five million caps and gowns end up in landfills every year, and these are usually made from a polyester material that is not biodegradable, according to Earth 911. Honor students at Kapiʻolani Community College have launched an initiative to change that and make their graduation greener.
They will be collecting caps and gowns at their commencement ceremony on May 10 at the Hawaiʻi Convention Center and for a period after commencement to keep them out of landfills. As part of their "Greener Graduation Initiative," they plan to sanitize and clean the caps and gowns to make them available for rental to future graduates.
"It is estimated that between 80 and 100 million graduation gowns are currently in landfills across the country. That is enough gowns to fill 25,000 garbage trucks," says Julie Rancilio, the Kapiʻolani CC associate professor who advises the Phi Theta Kappa honor society students.
The students held an informational pop-up on campus recently to educate students and drum up support for post-commencement cap and gown donations. Kapiʻolani CC student and Phi Theta Kappa chapter Vice President Cassandra Robinson took on the leadership mantle for the project in March.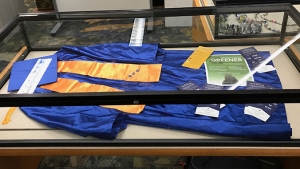 "Iʻm hoping to implement this initiative UH-wide within the state, and extend it to local high schools and eventually make this a nationwide campaign," Robinson said. "We want to help other campuses to implement this sustainable movement toward a healthier environment and economic benefit for us all."
Students can save about 50 percent by renting a recycled cap and gown from the Kapiʻolani CC honor society next year. In addition, if a student cannot afford the ensemble, the honor society will loan them one for free.
Another campus, Honolulu CC, also plans to collect gowns after its commencement ceremony on May 10 at the Waikīkī Shell. The Honolulu CC website says this is to assist future graduates who may find it difficult to afford a cap and gown.
"Once again, we are grateful for and proud of our students, who continue to lead our institution by example," said Matthew K. Lynch, University of Hawaiʻi sustainability coordinator. "We encourage others to consider donating their used caps and gowns, instead of discarding them, so this program can continue to grow and keep graduation gowns out of our landfills."
—By Kelli Trifonovitch