For one glamorous and dazzling evening, Honolulu was the fashion capital of the Pacific as University of Hawaiʻi at Mānoa College of Tropical Agriculture and Human Resources' Fashion Design and Merchandising Program (FDM) students and models presented the 'next big thing' in clothing design at the 53rd annual spring fashion show on April 28.
Against the exquisite backdrop of the Hawaiʻi State Art Museum, models in dresswear, swimwear, menswear and the individual collections of three junior designers strutted down the raised, well-lit runway wearing 47 distinct creations of UH students.
The show "Sweet Escape" was a fitting conclusion to a school year filled with event planning and preparations from one track of students, while another track cranked out a wide array of new and inventive designs, sketched out and then custom-tailored to each model.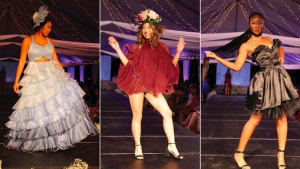 "It's been an amazing process," said Kristen Domingcil, FDM lecturer. "Everything is coming together, everyone is pulling together. The production-side students are coordinating with design-side students. I hope our guests from the community and industry see a great show."
In this year's design collections—"Underexposed Exposè," "Bloom Where You Are Planted," "Celestial Bodies," "Met Gala," "Rustic Roundup" and "Midnight Edge"—students carried on the art, spirit and culture of past UH fashion shows and sought to captivate the essence of their own artistic abilities and innovations.
"The Sweet Escape was very exciting for me, because my students could showcase their creations and inspirations," says Minako McCarthy, FDM lecturer. "Presenting their designs and skills will increase their confidence. This experience will help the students become better designers, and in whatever careers they choose. I'm very proud of them."