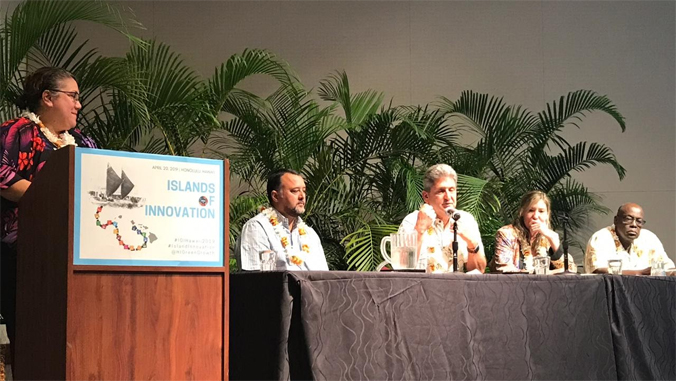 University of Hawaiʻi faculty and staff presented projects at the Islands of Innovation initiative, a day-long gathering connecting island solution-makers, innovation accelerators, business leaders and the community to advance achieving the United Nations Sustainable Development Goals, at the Hawaiʻi Convention Center on April 20.
Matthew K. Lynch, UH Office of Sustainability director, presented "The Albizia Project," Brian Glazer, faculty at the School of Ocean and Earth Science and Technology, presented "Hohonu," and UH President David Lassner helped provide insight on the discussion panel.
"The innovative solutions presented at this summit are inspiring examples of the creativity and excellence within the UH community," said Lassner. "The university is committed to equip our students—the leaders of tomorrow—to take empowered action that helps our communities and the planet navigate the formidable environmental challenges in the years ahead."
Lynch presented The Albizia Project, designed by UH Mānoa alumnus Joey Valenti, a prototype constructed as a proof-of-concept of a single-family low-income shelter made from albizia wood, reconceptualizing the invasive species as a useful building material. The project gives insight to homegrown sustainability solutions for Hawaiʻi's affordable housing crisis.
Glazer and his collaboration partner, Stanley Lio, built an Internet of Things platform called Hohonu, which enables real-time monitoring and analytics using custom and commercial sensors. They have deployed more than 100 low-cost, scalable, real-time water level sensors worldwide to determine threats from episodic and seasonal flooding events.
"Islands are hotbeds for innovation out of necessity," said Vassilis Syrmos, UH vice president for research and innovation. "We are excited to partner with Shift7 and others to help connect the innovations of our islands to global resources that maximize our positive impact on the communities we serve here, and around the world."
The Islands of Innovation gathering was co-created by Hawaiʻi Green Growth, Local2030 Islands Hub, Global Island Partnership, Shift7, Purple Maiʻa, Polynesian Voyaging Society and many supportive partners and sponsors.