Whether it's to learn new skills, to find a new career path or finish what they started earlier, nontraditional students, often referred to as returning adult students, are the new fresh faces on college campuses.
Tehani Keanini, originally from Waimea on Hawaiʻi island, is one of them. On May 10, 2019, she graduated from Windward Community College with her associate's degree.
But the path toward a college degree wasn't always so clear for the 34-year-old single mother of two children (ages 3 and 13).
Working smarter, not harder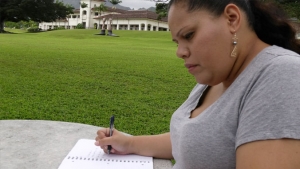 Keanini enrolled in college after graduating from Kamehameha Schools Kapālama as a boarder student. She decided it wasn't for her and dropped out early to enter the workforce and support her family.
"I was burnt out academically," said Keanini. "I was working in the hotel industry and making money, it was great."
But after working for 10 years, she wanted more. She wanted better.
As the sole provider for her family, Keanini's work schedule barely afforded her any time off to spend with her son. After she had her daughter three years ago she was even more motivated to work smarter, not harder. She then made the decision to continue her academics at Windward Community College to build them a better future.
"It wasn't until 2017, 14 years later after graduating high school, that I was like, 'I'm finally ready. This is what I want to do,'" said Keanini. "This is the pathway I want to take to get me where I want to be and that's why I started."
Balancing act
Balancing school and home life hasn't been easy, but this time Keanini was determined to persevere.
Her daily schedule begins at 6 a.m. when she gets her kids ready for school and drops them off, one in Kāneʻohe and one in Kailua, before coming to Windward CC to attend classes and focus on her studies. At night, she's in bed with her kids at 8:30 p.m. and naps with them until 11 p.m. before she's up and running again. "I'll do homework until 3 a.m., take another quick nap and wake up at 6 a.m. to start breakfast, lunch and snacks for the day. Then hana hou—rinse, repeat and redo," she explained.
Keanini credits Paipai o Koʻolau, a scholarship program that paid for her first-year tuition at Windward CC, for helping her return to college. "The whole reason I decided to enroll at Windward was because of the program," she said. "It was a great financial relief to get me started on my academic journey, and they provided counseling and resources throughout the year that helped me stay on track…it was wonderful."
Keanini added, "Everything I can possibly think of has been available at Windward CC, especially the teachers who I've connected with who have personally put in the time and effort to help me with my academic journey, give tips and encouragement because sometimes I'm like, 'I can't do it!'"
End game
It was at Windward CC where Keanini discovered that she really enjoyed accounting. She will be transferring to the University of Hawaiʻi at Mānoa's Shidler College of Business in the fall to pursue a bachelor's degree in accounting. Her long term goals include earning a certified public accountant license and a masters in business administration.
As an adult student who has made the leap, she shares some advice to others who may be contemplating going back to school.
"Don't be scared. I know it's overwhelming to think about when you're starting your journey to come back to college," she said. "Whether you're an older adult, nontraditional, you have kids, whatever it is, don't be scared."
Come back to college and earn your degree.