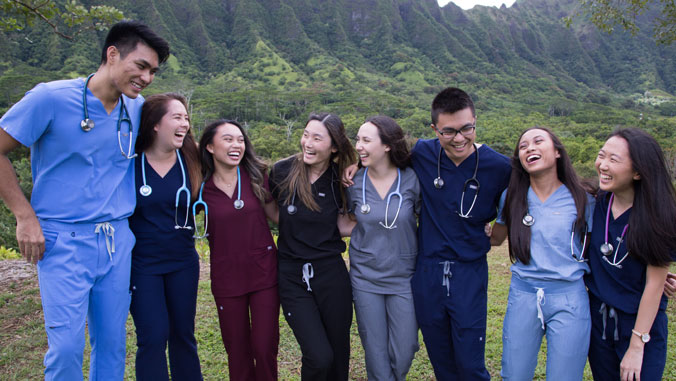 When Kiki Thurston was a kid, her little brother spent a lot of time in the hospital with pneumonia because of his asthma. Thurston recalls being scared sometimes but fondly remembered the nurses who were so caring and kind. It made a lasting impression on her.
Born and raised in Hawaiʻi, Thurston graduated from Kalani High School and enrolled at the University of Hawaiʻi at Mānoa as a pre-business student. Although she knew she liked science, it wasn't until part way through her first semester after seeing a video about the UH Translational Health Science Simulation Center did she realize she wanted to become a nurse. To become like the nurses who made a positive impact on her as a child. She wanted to care for people, like those nurses did for her brother.
Thurston has excelled as a student in the nursing program in the School of Nursing and Dental Hygiene. In her senior year, she was elected president of the Student Nurses' Association (SNA) at UH Mānoa and served as a student ambassador leader. She was awarded numerous scholarships and received the 2018 American Organization of Nurse Executives Hawaiʻi Chapter Leadership Award and the 2019 National Student Nurses Association Ambassador Award.
Leadership opportunities build experience
As president of SNA, she demonstrated commitment and service to nursing students, the school, the people of Hawaiʻi and the nursing profession.
SNA events have promoted interdisciplinary activities and brought students from other health related majors together. Thurston built strong partnerships with the school, the nursing honor society Sigma Theta Tau International and the UH Mānoa Nursing Alumni Association. She credits an amazing executive board for the success of SNA and feels that they have all grown through their shared experience.
Gary Glauberman, Advanced Population Health Nursing Program director and SNA advisor, served as a mentor and role model for Thurston during her presidency. He believed in her abilities and pushed her professionally to build confidence and realize her full potential.
Preparing to enter the workforce
Following graduation, Thurston, along with her classmates will sit for the National Council Licensure Examination, a standardized test that certifies candidates to become registered nurses. Thurston believes the education she received during her UH Mānoa nursing program has prepared her for a future career in nursing.
Nursing students take lecture courses and go into hospitals and community agencies for clinical experience. Thurston's clinical experiences built her confidence and gave her a peek into her future profession. Thurston says instructor Bill Siegman is one of her most inspirational teachers.
"He's a great nurse and really cares about his students and his patients. He does a great job instilling the warm fuzzy side of nursing," she said. "He teaches you the 'why' behind nursing. It's easy to get caught up in the tasks, but Bill always focuses on caring for the whole person. He doesn't lecture this, he teaches us by example."
Caring for people in their time of need
Thurston's career goal is to work in critical care. She did a cooperative education internship through UH Mānoa's Career Center at Kapiʻolani Medical Center for Women and Children in their pediatric intensive care unit. Thurston felt that she had a big impact on her pediatric patients and their families, just as nurses did for her brother and her family many years ago.
When asked about what she looks forward to most as a nurse, Thurston said "I want to get good at my job. I'm excited to do nursing work all the time and I know I can develop my skills more." She's also excited to work alongside the many inspiring nurses she's met during her academic journey.
Thurston will graduate with her bachelor of science degree on May 11, 2019.
—By Desiree Uyeda