The country's largest multidisciplinary and multicultural STEM diversity event is coming to the Hawaiʻi Convention Center October 31–November 2 and there are special offers for University of Hawaiʻi students, faculty and staff. More than 4,000 STEM professionals, scientists, engineers and college students are expected to attend 2019 SACNAS—The National Diversity in STEM Conference.
The conference is produced and hosted by Society for the Advancement of Chicanos/Hispanics and Native Americans in Science (SACNAS), an inclusive organization with more than 45 years of experience of fostering the success underrepresented minorities in STEM.
UH Mānoa Pacific Biosciences Research Center Program Director and SACNAS Board Member Healani Chang said, "The ʻIlima SACNAS Chapter, with members from several Hawaiʻi institutions, was key to bringing this important conference to our state. SACNAS always presents tremendous opportunities for networking and mentorship for Hawaiʻi's college students. Many have advanced their educational and career trajectories through these conference experiences."
View the 2019 SACNAS Conference invitation featuring Chang and the Hawaiʻi delegation in San Antonio, TX.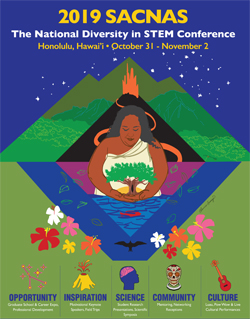 SACNAS is providing exclusive offers for UH System students, staff and faculty. To access any of the offers below an applicant must have a valid UH @hawaii.edu email address.
Register and find out more about 2019 SACNAS on the UH Office of Stem Education website. Keep checking this site for updates.
Research presentation opportunities
UH undergraduates can apply during the summer application time frame (June 5–July 8) regardless of whether it is the regular academic year research or summer research using the summer submission link.
Accepted applicants will have the opportunity to refine presentation skills, receive one-on-one mentoring and feedback on research, and connect with a supportive community of peers and role models throughout the conference.
UH graduate students are also eligible to submit their proposals during the same time frame via a special link just for UH. UH STEM students interested in submitting a research presentation application for the 2019 SACNAS conference must contact SACNAS Student Programs Manager Kateryna Poradiuk directly at kateryna@sacnas.org for the special application links. For more information about the student research presentation program at 2019 SACNAS, visit https://www.2019sacnas.org/research-presentations/.
—By Kelli Trifonovitch