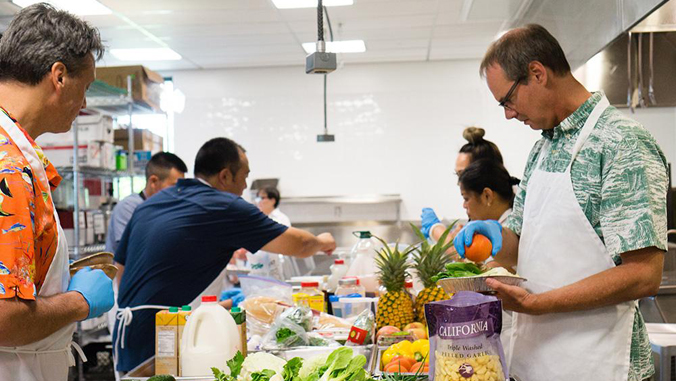 Team building can be tested and vested in a kitchen. The Office of Continuing Education at Kapiʻolani Community College, along with the Culinary Institute of the Pacific (CIP), is about to launch Hawaiʻi's first ever Culinarium Team Building Experience.
This innovative, hands-on program encourages groups to be actively engaged in a unique team building experience disguised as a culinary competition. Executive teams, command cadres, destination groups or any party that wants to take its organization to the next, higher performance level will find the culinary experience motivating and satisfying.
Under a bit of pressure, participants will create meals that are judged by a professional chef, and then shared and savored by all teams. A team building instructor will facilitate a conversation around what team members learned throughout the competition and give feedback and tips on how to work together toward success.
Said John L. Richards, dean of Career and Technical Education and the CIP, "The Culinarium Team Building Experience is a fun, hands-on experience that promotes leadership, innovation, collaboration, communication and creativity—qualities that make up high-performance teams."
For more information please contact Alissa at (808) 734-9889 or alissak@hawaii.edu.
—By Louise Yamamoto