AstroDay 2019, celebrating 18 years, brought science educators from around the state to Prince Kūhiō Plaza in Hilo to share their knowledge and enthusiasm on May 4.
"This is the largest crowd I've seen in years," said Makana Guillermo, property management associate for the Prince Kūhiō Plaza. "There's so much energy here today!"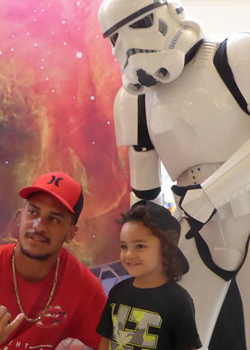 The annual event is sponsored by the Maunakea Observatories and coordinated by the UH Institute for Astronomy (IfA). More than 200 volunteers from observatories on Maunakea, Mauna Loa and Haleakalā on Maui, and other science and educational organizations staffed 85 tables throughout the mall. A variety of activities and demonstrations fascinated hundreds of participants, from preschool children to seniors.
Astronomy and physics activities were presented by ʻImiloa Astronomy Center, Pacific International Space Center for Exploration Systems, Hawaiʻi Science and Technology Museum, UH Hilo Department of Physics and Astronomy and UH Hilo's astrophysics club.
Robotics and technology were highlighted by high schools in Hilo and Keaʻau. Enthusiastic students were eager to showcase their projects. There were programs onstage throughout the day, from a planetary game show run by IfA graduate students, to comet making and a black hole demonstration.
"We were even treated to a Star Wars Storm Trooper, who roamed the aisles and thrilled the public all day. After all, it is 'May the 4th Be With You' day," said Carolyn Kaichi, IfA outreach and education specialist and coordinator of AstroDay, "From what I saw, parents were more excited than their children, since I suppose we grew up with the franchise!"