The Frances Davis Award for Excellence in Undergraduate Teaching for a faculty and a graduate assistant recognizes dedication and demonstrated excellence as teachers of undergraduate students. It was established as a memorial to the late Frances Davis, who taught mathematics at Leeward Community College and UH Mānoa for 19 years.
Sandra Claveria is an assistant professor and coordinator of the human services program at Hawaiʻi Community College. Claveria uses a dynamic pedagogy to inform, ignite and inspire her students. She instills within her students an awareness of self, sense of place and renewed confidence. She equips students with the knowledge and skills needed to work effectively with diverse individuals in numerous human services settings.
With nearly 35 years of experience in Hawaiian culture, diversity and values education, Claveria is a mentor and coach, and highly sought-after facilitator and keynote speaker. She advises the Unity with Aloha student organization, and cultivates campus and community servant leaders.
Claveria is a 2010 recipient of the University of Hawaiʻi Regents' Medal for Excellence in Teaching, a Generation X Wo Learning Champion and a Generation II/III Wo Global Learning Champion. She exemplifies the qualities of an outstanding instructor who demonstrates passion, encouragement and aloha.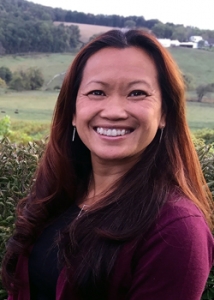 Gigi Drent is a professor of mathematics at Kauaʻi Community College. Her experience extends from teaching a wide range of courses from basic math to calculus at high school and college levels to training teachers on Common Core state standards as well as curriculum development at the UH Community College and the Hawaiʻi Department of Education. She is very passionate about engaging learners with mathematics, especially in the areas of problem solving and number sense.
Drent believes in the open-door education—the foundation that made her American Dream come true when her family immigrated from Vietnam in 1990. It is the driving force behind her efforts in Early College, college and career readiness, as well as P–20 alignment projects. She believes that change is inevitable, so she engages in planned changes such as the math redesign and student success initiatives in the UH Community College system. Drent believes and preaches Growth Mindset—the best competition is her own previous self; life is a work-in-progress; and hard work is the key to success.
Karyl Garland, a lecturer in the University of Hawaiʻi at Mānoa Department of English, is carrying on a family legacy in her teaching. The concept of storytelling is interwoven throughout her teaching philosophy. In the spirit of place-based education, Garland begins the element of storytelling with a personal narrative asking students to recall a place of significance, to evoke an atmosphere in which "learners become part of a community greater than their own and recognize themselves within that community as individual of extraordinary value."
Her courses include business writing, introductory and advanced composition and professional editing. Utilizing her expertise with editorial work, she introduces students to the art of professional editing and publishing, and they attribute successes outside the university to the form of professionalism she embodies as a teacher.
"After taking her class, I understand the importance of writing well," said one student.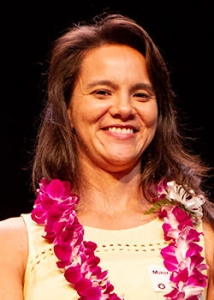 Maureen Kearns is a PhD candidate in the University of Hawaiʻi at Mānoa Department of Mathematics. She possesses a tremendous passion for education. Her approach to teaching includes the key components of genuine care for students, remaining humble and having a sense of responsibility to her community.
Kearns has sought outside training from Youth Mental Health First Aid USA and Safe Zone Training on LGBTQ+ Safety and Inclusion to help become a well-rounded, effective instructor. She understands her students come from unique backgrounds and have much more going on in their lives than just the math class at hand.
One student echoes the sentiment of many others, saying, "She dedicates a lot of time to out-of-class help and also provides students with an abundance of resources. She is by far the best T.A. I have ever had for any class."
Matthew Knope joined the University of Hawaiʻi at Hilo in fall 2017 as an assistant professor of biology and quickly became known for putting teaching and his students as his highest priorities. Students in his courses laud him for bridging complex evolution concepts with real-world research. Colleagues praise him for demonstrating his commitment and strong ability to integrate research and teaching and to directly involve students in his research, which involves his high-impact research on global animal extinctions among other topics.
Students are thankful for their first-hand experiences to create research posters and present them to an audience, opportunities many undergraduates say they never had before taking a class from Knope. Students agree that Knope connects well with students, explains complex topics in unique and exciting ways and always uses different approaches to his teaching to ensure student success. He is considered a natural and effective teacher and a rising star in the field of ecology and evolution.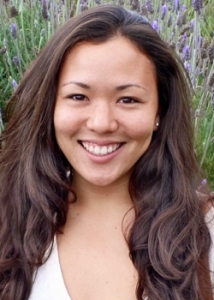 Michele Mahi is an assistant professor of speech at Leeward Community College. Her exuberance and dedication to continuous improvement in curriculum, communication and pedagogy are the cornerstones of her approach to teaching.
Mahi created Leeward's first fully online Speech 151 class and designed the first 5-week accelerated version of that course. She redesigned her standard course syllabus, creating more engaging, visual communication pieces. Creating Visual Syllabi was one of the more than 20 workshops Mahi developed and presented for students and faculty.
Improving student learning is the foundation of everything Mahi does. She enthusiastically stepped up to coordinate the campus wide initiative to explore best practices in retention strategies for faculty in the classroom. The retention and persistence project involved research, hands-on working sessions and sharing results with the campus.
She was selected to co-chair Teaching Squares, one of Leeward's professional development programs to improve teaching. The program brings faculty together to observe and learn from other teachers.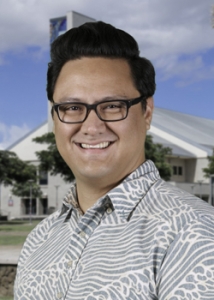 Kamuela Yong is an assistant professor in the Mathematics, Health and Natural Sciences division at the University of Hawaiʻi–West Oʻahu. He has been at UH West Oʻahu since fall 2015 and has continued to modify his teaching style based on learning from his students.
Yong's main goal is to prevent students from fearing math. In order to accomplish this, he acknowledges, "I must listen and be patient." Building on this approach, he embraces and fosters a mathematics community.
Since fall 2018, he has provided tutoring during his lunch break to current and former students, as well as students in other math classes. Additionally, Yong has created 232 online videos constituting more than 49 hours of instructional content.
When a student was asked what grade she would give him, she replied, "An A+. Dr. Yong really took the time to explain to us the material that we needed to know for this course and was really patient with us." Yong proclaims that "teaching is a learning experience" and readily admits that he is constantly learning as well.