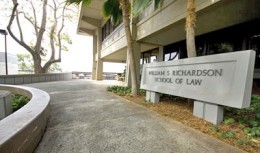 The Office of the Provost at the University of Hawaiʻi at Mānoa has formally initiated the search for the next dean of the William S. Richardson School of Law. A search advisory chair and committee, reporting to Provost Michael Bruno, have been named.
Noreen Mokuau, dean of the Myron B. Thompson School of Social Work, will chair the search advisory committee.
The committee will recommend finalists to Provost Bruno, who will recommend a selectee to UH President David Lassner.
The search advisory committee will convene over the summer, with finalists invited to campus in the fall 2019 semester. The new dean may begin in spring or fall 2020.
Avi Soifer, dean of the UH law school, announced his retirement in March after 16 years in the leadership position.
For the full list of search advisory committee members, see the UH law school website.