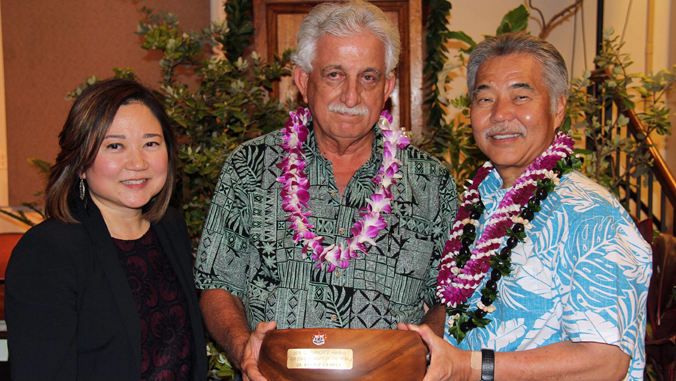 The University of Hawaiʻi took two of the three awards given by the governor in recognition for service of state employees for 2019.
Manager of the year
UH Mānoa Assistant Vice Chancellor for Undergraduate Education Ron Cambra was named state manager of the year. He manages the overall operations and resources for undergrad programs, and was an early champion for a number of highly successful initiatives—the STAR degree tracking program, 15 to Finish and mandatory advising.
Cambra has helped with streamlining processes and worked to increase the four-year graduation rate from 16 percent to 32 percent. UH Mānoa has been nationally recognized for its success in degree completion projects.
Team of the year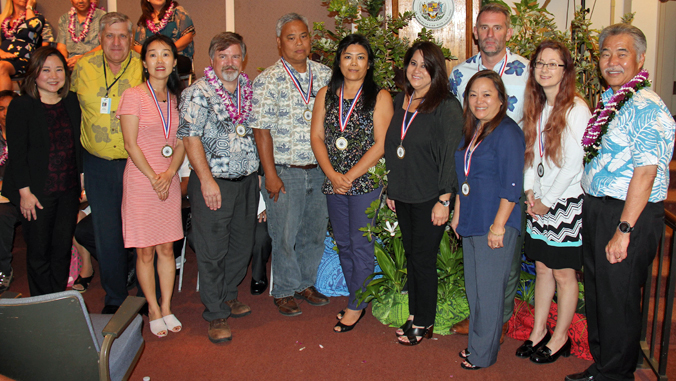 The administrative team from the UH Cancer Center was chosen the state team of the year. The team members were recognized for their efforts in supporting the mission of the UH Cancer Center by improving operational efficiencies and productivity, supporting faculty researchers and achieving mission-based objectives.
Team members include Namrata Gurung, Nana Ohkawa, Francis Blanco, Cathy Zhang, Michelle Kau, Kate Bryant-Greenwood, Todd Cullison, Wendy Richards, Kornelia Szauter and Cliff Martin.
"It is incredibly gratifying to see members of our UH ʻohana recognized statewide for their remarkable work," UH President David Lassner said. "Our faculty and staff are continually advancing the capability of the University of Hawaiʻi to educate our students and address the challenges and opportunities facing our islands and the world."
The winners were recognized for their service at a ceremony at the Capitol on May 17, where Gov. David Ige presented the winners with their awards.