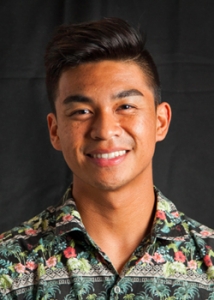 Shidler College of Business graduate Joshua Domingo of Honolulu has been accepted into the Peace Corps and will depart for Uganda at the end of May to begin training as a business development volunteer.
"I cannot imagine any other organization would provide so many opportunities to share my skills on a global stage," said Domingo, who graduated from the University of Hawaiʻi at Mānoa in fall 2017 with a bachelor's degree in management information systems. "I hope to give a better perspective of where I come from in America and highlight the place I am going serve, Uganda."
The 2016 Freeman Scholar at Shidler College of Business also worked as an information technology specialist at the UH Mānoa College of Education and volunteered in the UH Mānoa photo lab before his Peace Corps posting.
During the first three months of his service, Domingo will live with a host family in Uganda to become fully immersed in the country's language and culture. After acquiring the necessary skills to assist his community, Domingo will be sworn into service and assigned to a community in Uganda, where he will live and work for two years with the local people.
"I hope to learn more about other cultures and what values others live by," Domingo said. "I'm most excited to learn how people live and work. I want to understand the inner motivations of other people so that in the future, as a young leader, I will be able to empathize and speak genuinely with others who hold a different viewpoint than mine."
The Peace Corps is one of the programs in the UH Office of Undergraduate Education, Civic and Community Engagement.
—Based partially on a Peace Corp press release.