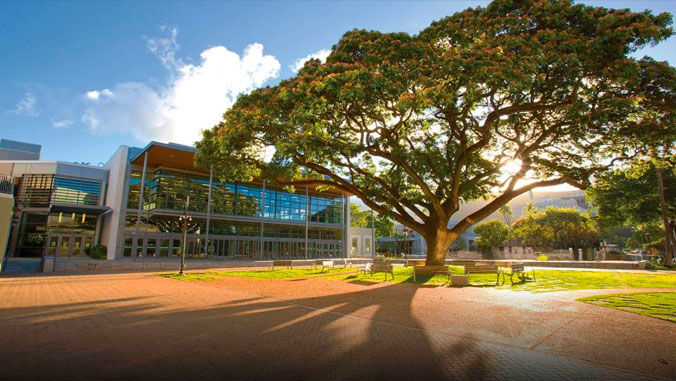 The University of Hawaiʻi at Mānoa has been identified as one of the nation's "most beautiful, yet affordable" college campuses in 2019, according to Affordable Schools, a leading higher education resource.
UH Mānoa is number eight among the top 30 colleges to make the rating, with Affordable Schools comparing more than 2,700 bachelor degree granting institutions in the U.S.
"Although the architecture resembles nothing like the collegiate style of ivy-colored institutions on the mainland, it boasts a beauty all its own," said the accompanying write-up. "The school is home to Lyon Arboretum, the only university tropical arboretum in the country. A valuable resource for the university's College of Tropical Agriculture, Lyon Arboretum showcases Hawaiʻi's bromeliads, gingers and palms. The 320-acre urban campus provides views of Honolulu, expansive blue ocean and lush Mānoa Valley. The school campus also boasts an open Thai pavilion and a Japanese garden featuring a teahouse and a koi pond."
In 2018, UH Mānoa was also named one of the most beautiful university campuses in the nation by College Magazine, and the Arbor Day Foundation designated it a Tree Campus USA for a 10th straight year.
The flagship of the 10-campus UH System regularly places on national and international rankings of colleges and universities for academics and research. See more at the Mānoa Institutional Research Office website.
No photos available right now.
Please verify your settings, clear your RSS cache on the Slickr Flickr Admin page and check your Flickr feed