It was a dream come true when Kaiser High School senior class president Megan Kaneshiro received a green University of Hawaiʻi at Mānoa folder containing her acceptance letter in the mail back in spring.
That dream became even sweeter during Kaiser's commencement rehearsal on May 23, when she was named the winner of a UH Mānoa social media contest she entered hosted by Hawaiʻi News Now.
With the UH cheer team and marching band amping up the crowd, which included Kaneshiro's unsuspecting family, UH President David Lassner and UH Federal Credit Union (UHFCU) President and CEO Travis Bow presented a shocked Kaneshiro with a large check for a semester of free tuition.
"That was very overwhelming, I wasn't expecting it at all," said Kaneshiro.
"She's a remarkable student, and what makes this one even sweeter is her parents are both UH graduates, and her grandmother who is here is also a UH graduate from 60 years ago," said UH President David Lassner. "I know she's going to do wonderful things at UH Mānoa."
"It is inspiring to see such a talented, driven and outstanding young person such as Megan receive the opportunity to pursue her academic goals," said Bow. "UHFCU was founded upon the legacy and critical importance of the UH System education as well as giving back to our members and the local community. We're pleased to award tuition to such a deserving recipient."
The online contest, which was open to incoming fall 2019 freshmen, asked entrants to upload a photo or video that reflected how they made the University of Hawaiʻi "yours."
Dreaming of being the next generation at UH Mānoa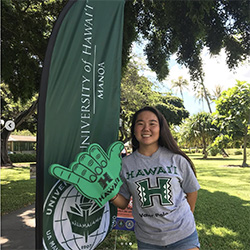 Kaneshiro's photo entry focused on how UH is the source of many childhood memories and carries a special place in her heart because of her family's history attending UH sporting events. Her eagerness and motivation to be the next generation at UH Mānoa was inspired by her grandmother.
"I thought of the idea of having a legacy thing so I was really surprised that my grandma could find pictures of her from college too, so that really impacted me alot," said Kaneshiro.
"This was an exciting way to engage with our local community and generate a unique storyline through the power of social media," said Assistant Vice Chancellor for Enrollment Management and Director of Admissions Roxie Shabazz. "We are grateful for UHFCU's generous contribution for this contest and the best part, Megan, our new Rainbow Warrior, will be able to experience the endless opportunities available at Mānoa, with a semester of free tuition!"
Kaneshiro plans to major in psychology and cannot wait to make Mānoa hers. #MakeManoaYours