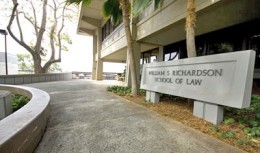 The latest issue of preLaw magazine named the William S. Richardson School of Law at the University of Hawaiʻi at Mānoa as the top Asian law school in the nation, based on demographics of both students and faculty, as well as number four for overall diversity.
preLaw also noted that the UH law school leads the country in Pacific-Asian legal studies and Native Hawaiian law, and received high grades in the following categories:
A− for trial advocacy
A− for alternative dispute resolution
B+ for practical training
The law school has also been highly ranked for its environmental and international programs.
See the full story on the law school website.
—By Beverly Creamer