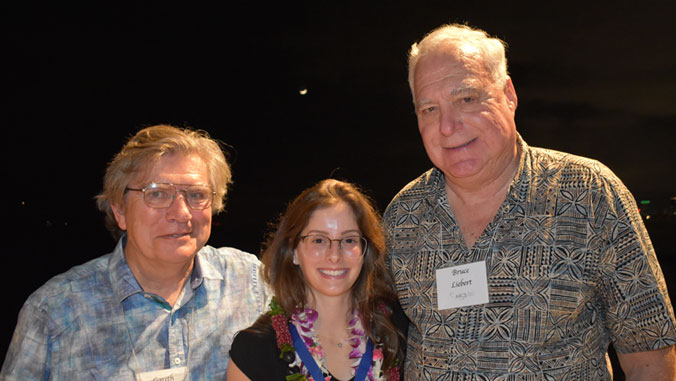 An earthquake modeler in the School of Ocean and Earth Science and Technology, was named the 2019 ARCS Scholar of the Year, and a dozen other University of Hawaiʻi at Mānoa graduate students received ARCS Scholar Awards at the ARCS Foundation Honolulu Chapter's recent year-end banquet.
ARCS, which stands for Achievement Rewards for College Scientists, is dedicated to keeping the U.S. competitive in STEM fields. The organization annually awards $5,000 grants to outstanding UH doctoral students who demonstrate potential for expanding knowledge and applying technological solutions.
Lauren Ward received the Toby Lee ARCS Award in Earth Sciences and the additional $1,000 Scholar of the Year Award for her efforts to refine simulations of the San Andreas Fault System and its crustal deformation response to the earthquake cycle. Her work may improve seismic hazard estimates for complex fault systems.
More UH Mānoa award winners
School of Ocean and Earth Science and Technology
Evan Lechner, ARCS Farrar Award in Oceanography
Lechner examines the movement of carbon and oxygen into and out of estuary systems, with the goal of creating more resiliency for sustainable coastal initiatives. He is tracking changes in

Heʻeia

Fishpond as restoration efforts replace invasives, such as mangrove, with native species.
Shayle Matsuda, ARCS Honolulu Award in Coral Reef Science
Matsuda studies the algae and bacterial communities that corals select as symbiotic partners. Identifying patterns in the microbial structure and community composition, which can differ across coral colonies, may help to identify mechanisms that could make corals more resistant to stress, thus more likely to survive climate change. The award was designated in memory of the late groundbreaking UH coral reef scientist Ruth Gates, who was Matsuda's advisor.
Sarah Tucker, Maybelle Roth ARCS Award in Conservation Biology
Tucker uses genetic tools to examine the ecological roles of three marine bacteria, including one that produces the oxygen in one of every five breaths humans take. Tucker considers both abiotic (such as rainfall, acidity and nutrients) and biotic (such as predation) environmental drivers.
Evan Kawamura, Shelagh Kresser ARCS Award in Engineering
Kawamura combines the use of nonlinear controllers with algorithms for trajectory guidance and navigation control of unmanned aerial vehicles or drones. The Hanalani Schools graduate collaborates with NASA experts on the project.
Brennan Yamamoto, Bretzlaff Foundation ARCS Award in Engineering
Yamamoto works in the Renewable Energy, Industrial Automation, Precision Engineering (RIP) Lab on the development of unmanned marine vehicles. A Moanalua High School graduate, Yamamoto received the Kresser Award in 2017.
Luke Campillo, Maybelle Roth ARCS Award in Conservation Biology
Campillo uses DNA sequencing of Hawaiian bird populations to study how geography drives speciation, the process by which a single population splits into two independent ones.
Christopher Light, Sarah Ann Martin ARCS Award in Physics
Light uses the Alpha Magnetic Spectrometer on the International Space Station to characterize Solar Energetic Particles coming from eruptions on the sun that pose acute risks to astronauts and equipment in space. He is also interested in how solar eruptions affect radiation from other sources and distort Earth's magnetic field.
David Webb, Sarah Ann Martin ARCS Award in Mathematics
Webb has built several new families of algorithmic dimensions that measure aspects of the oscillations between simple and complex sequences, and explores the relationships between them. The Punahou graduate is also a semi-professional choral singer.
John A. Burns School Medicine (JABSOM)
Chantell Balaan, Koenig ARCS Award in Medicine
Balaan studies the potential role of microbiota in Autism Spectrum Disorder (ASD). She looks at two distinct types of cave fish, one of which exhibits ASD-like behaviors, to assess the potential for a ketogenic diet to mitigate those behaviors. The

Kauaʻi

High School graduate is in the Developmental and Reproductive Biology Program, Department of Anatomy, Biochemistry and Physiology.
Alina Pang, Kai Bowden ARCS Award in Medicine
Pang examines how the body uses energy in different diseases with an eye to identifying beneficial dietary interventions. Her work studies the potential for a high-fat, low-sugar ketogenic diet in children with Autism Spectrum Disorder and the role of blood sugar in immune system inflammation related to Type 2 Diabetes. The Kamehameha Schools Kapālama campus graduate is in the Department of Cellular and Molecular Biology and is a trainee in JABSOM's Ola

Hawaiʻi

program to address local health disparities.
College of Tropical Agriculture and Human Resources
Jessie Puahau Kai, Department of Human Nutrition, Food and Animal Sciences, ARCS Farrar Award in Tropical Agriculture
Kai harnesses mobile technology to capture dietary data in order to assess the early diets of infants in minority and indigenous populations that have high incidences of childhood obesity and nutrition-related diseases. She is a Kamehameha Schools–

Hawaiʻi

campus graduate.
Ashley Chontos, Columbia ARCS Award in Astronomy
Utilizing Maunakea and space-based facilities to look for planets outside our Solar System, Chontos applies a process called asteroseismology, the study of sound waves, to characterize planets and the stars they orbit.
About ARCS Foundation Honolulu Chapter
One of 15 ARCS Foundation Inc. chapters nationwide, the Honolulu chapter has awarded close to $2 million in unrestricted awards to about 600 UH Mānoa graduate students since 1974.