The University of Hawaiʻi at Mānoa School of Pacific and Asian Studies (SPAS) will begin offering a new advanced degree this fall designed for working professionals and organizations seeking to engage with Asia and the necessary knowledge to deal sensitively with complex international and domestic issues in the region.
The master's in Asian international affairs (MAIA) aims to fill that need and is geared toward those working in the military, government service, education and tourism sectors who have a solid understanding of Asian geopolitics and the multifaceted determinants and impacts of Asian nations' engagements with their neighbors and the world.
"Asia in today's world—with its enormous population, its economic dynamism, its environmental and social challenges and its innovative solutions—is imperative as we look to the future," said SPAS Dean R. Anderson Sutton. "This new degree builds on our special strengths and faculty expertise, shifting from the standard language-based, single-country focus that characterizes most area studies degrees to an emphasis on contemporary issues and international connections among the countries, peoples and economies, within Asia and beyond."
Asia is home to almost 60 percent of the planet's population, accounts for more than a third of global GDP and boasts some of the most dynamic economies in the world. Asia is a leader in the pace of urbanization and poverty alleviation, but remains home to two-thirds of the world's poor. According to the Organisation for Economic Co-operation and Development, its middle class is expected to grow from 500 million in 2009 to 3 billion by the year 2030, creating not just new consumer demand, but also new political demands and unprecedented challenges for natural and human resources.
Drawing on the international recognition and established strengths of SPAS and the Asian studies program, MAIA will bring together Asia specialists from UH and the state to create an innovative multidisciplinary program of study.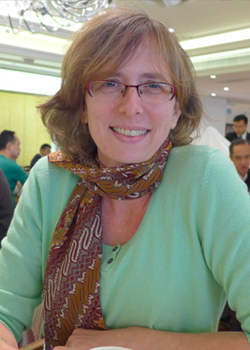 "Asia is important to the future of the globe, no matter where you are, but it's especially so in the state of Hawaiʻi," said Asian Studies Chair Cathryn Clayton."We hope this program can help position Hawaiʻi even better for a future in which Asia plays an increasingly central role."
The 30-credit program is open to students with at least two years of professional experience in fields where prospects for advancement would be enhanced by a deeper understanding of Asia. The curriculum will include a series of courses on area studies, applied theory, and a capstone experience that asks students to apply their newly acquired knowledge to a project in their own field or to a collaboration with experienced professionals working on real-world problems.
Graduates of the program, and the organizations they represent, will be positioned to work productively across cultural boundaries on questions of local, national and global importance, and to make well-informed decisions in an environment where Asia is increasingly central.
Learn more about the master's in Asian international affairs.