Three recent graduates from the Global Environmental Science (GES) program at the School of Ocean and Earth Science and Technology (SOEST) demonstrate stewardship as they work toward a healthy and sustainable Hawaiʻi. Honour Shore Ai Lin Booth, Noʻeau Machado and Cuong Tran have earned GES bachelor of science degrees at the University of Hawaiʻi at Mānoa.
Honour Booth
As a teen, when Booth began surfing regularly on Oʻahu and her mother always reminded her to use sunscreen, she would argue that it contained chemicals that were detrimental to island waters. The question of just how much sunscreen actually goes into the environment remained with Booth into college. This question inspired her to develop her research project with Philip Williams, a UH Mānoa chemistry professor. Booth has attended conferences including the International Coral Reef Symposium. In addition, being selected as a Peter J. Rappa Sustainable Coastal Development Fellow led to her working with the city's Office of Climate Change, Sustainability and Resiliency. This spring, she graduated with a bachelor of arts degree in chemistry.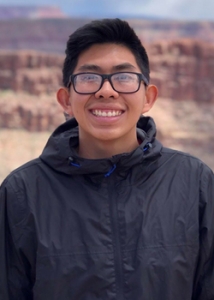 Noʻeau

Machado

Machado knew the GES program was perfect for him as soon as he learned about it. The program allowed him to tailor his curriculum around studying the environment, sustainability and science, Hawaiian culture and sustainable food production systems. Machado wanted to pursue a research project that would allow him to give back directly to Hawaiʻi. He chose a focus on Heʻeia Fishpond under the mentorship of oceanography Associate Professor Rosie Alegado, whom he deeply respects. Since entering the GES program in fall 2015, he has received scholarships and recognition, including the ʻŌiwi Distinguished Scholars Award and ʻŌiwi Undergraduate Research Fellowship, both from the Lāhui Hawaiʻi Research Center. He was born and raised in Kāneʻohe.
Cuong Tran
Tran transferred to the GES program after being inspired by a service project trip in spring 2016 to Molokaʻi, where he rediscovered a passion for environmental conservation. He has always enjoyed the ocean, especially Baby Beach in his hometown Lāhainā, which is his "happy place" to think, reflect and get inspired. A family tragedy along this very beach propelled him into researching anthropogenic climate change, which affects shoreline communities. Tran conducted his earth sciences research with SOEST Associate Dean Chip Fletcher. The winner of the NOAA Ernest F. Hollings Scholarship and National Science Foundation Graduate Research Fellowship, Tran led his SOEST graduating class as a student marshal at commencement. Born in Ho Chi Minh City, Vietnam, he was raised on Maui.
More about GES
The GES program trains passionate and high-quality students to be knowledgeable in Earth-system science and to think creatively about the challenges facing communities and natural resources. Each student is guided by a UH faculty mentor and performs original scientific research, writes a research thesis and presents findings.
Mentors include SOEST faculty, global leaders in the fields of oceanography, earth and space science, and technology. Throughout the GES degree program, students are engaged in fieldwork, laboratory work and field trips, and have access to deep ocean and coastal research vessels, SOEST's world-class Hawaiʻi Institute of Marine Biology and an active volcano.
See the full story on the SOEST website.