There's no summer brain drain among a group of middle school students from Oʻahu and Hawaiʻi Island. Seven teams spent a day participating in an "808 Math Island Style" challenge designed by undergraduate students and faculty from the University of Hawaiʻi at Mānoa's math department. The event was part of the 2019 Innovative Teachers Engage Collaborate-Hawaiʻi (iTEaCH) conference held June 13 at the Hawaiʻi Convention Center.
UH Mānoa undergraduate math students facilitated activities intended to demonstrate how mathematics impacts daily living and, on a bigger scale, how math plays a role in their local community. The challenge engaged students by bringing mathematical concepts to life, using restoration and revitalization of Kahoʻolawe as a real world example.
"It's not a competition, rather a challenge, showing the students aspects of mathematics that they might not be familiar with but appropriate for their age level," said Yuriy Mileyko, assistant professor of mathematics and co-lead of the challenge. "We wanted the students to have fun and be creative in their answers, all while demonstrating how math can be used to help answer revitalization issues on Kahoʻolawe."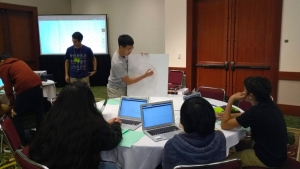 After an oli by Protect Kahoʻolawe ʻOhana, students were split into two groups of school teams. Before working on the actual challenge, students did "expert training," where they recalled and learned mathematical tools needed for the challenge by solving fun problems involving data analysis, area and volume estimation using a 3D model of Kahoʻolawe to demonstrate how climate change is affecting sea-level change, and examined the relationship between water flow and pressure using plastic bottles filled with water. Students also had the opportunity to view a 360-degree video of Kahoʻolawe using Google virtual reality glasses.
The students' training was then utilized during the challenge as the two groups worked on four separate problems regarding estimation of future rainfall patterns, amount of water collected for irrigation, water needs of various native Hawaiian plants and area estimation that could be supported by irrigation. The results from both groups were combined to answer overarching questions about improvement and expansion of vegetation on Kahoʻolawe. At the end of the day, the teams came together to present their findings.
The overall findings will be shared with the students' respective schools and Kahoʻolawe Island Reserve Commission (KIRC). KIRC Executive Director Michael K. Nahoʻopiʻi was instrumental in KIRC's support and information it provided the math department while designing the challenge. The challenge was created in collaboration with two Hawaiʻi State Department of Education Office of Curriculum and Instructional Design mathematics teachers, Patricia Ishihara and Shaun Kaʻanoi, and mathematics educational specialist Joseph Manfre.