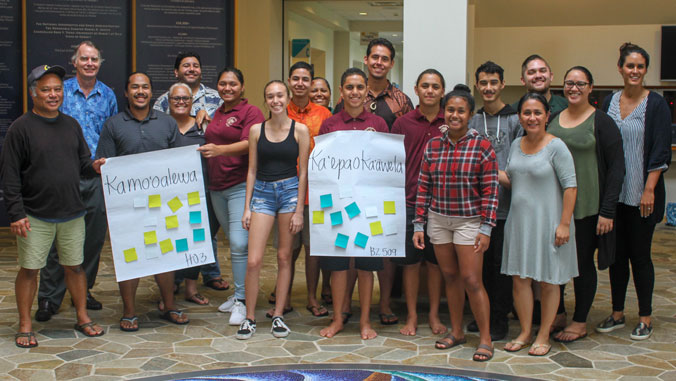 Hawaiian names for two locally discovered asteroids have been announced. The International Astronomical Union (IAU) recently adopted the Hawaiian names Kamoʻoalewa and Kaʻepaokaʻāwela, which were selected by Hawaiian immersion students during the groundbreaking A Hua He Inoa pilot nomenclature project last year.
The celestial discoveries represent the second and third indigenous names accepted by the organization following ʻOumuamua, named in 2017. Kamoʻoalewa is sourced from the kumulipo, and alludes to a celestial object that is oscillating, reflecting the asteroid's path in the sky when viewed from Earth. Kaʻepaokaʻāwela means "the mischievous opposite-moving companion of Jupiter," evoking the image of a retrograde object of unknown origin.
"It is exciting to see the Hawaiian language and cultural practices elevated on a global stage with the official recording of Kamoʻoalewa and Kaʻepaokaʻāwela, not to mention the IAU's consideration of Pōwehi for the incredible black hole discovery," said Kaʻiu Kimura, ʻImiloa Astronomy Center executive director.
At the A Hua He Inoa pilot program in October 2018, leaders in astronomy and Hawaiian-medium education convened Hawaiʻi Island students, cultural practitioners and top research scientists to develop Hawaiian names for the two unusual celestial bodies.
Following the IAU's acceptance of ʻOumuamua, the icy comet and first interstellar visitor to our solar system detected by the Pan-STARRS 1 telescope on Haleakalā, the official adoption of Kamoʻoalewa and Kaʻepaokaʻāwela carries forward Hawaiʻi's legacy of astronomical observation and celestial naming that dates back over a thousand years.
About A Hua He Inoa
A Hua He Inoa is a collaborative effort lead by ʻImiloa Astronomy Center and the Maunakea Observatories. A Hua He Inoa creates pathways in which language and culture are at the core of modern scientific research, and is the first in the world to weave traditional indigenous practices into the process of officially naming astronomical discoveries.