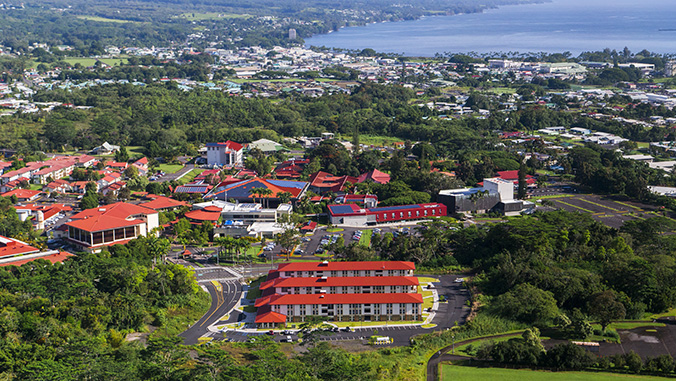 In 2018, the University of Hawaiʻi at Hilo launched a new certificate in data science, established a new aeronautical sciences degree program, and the doctor of nursing practice program was granted permanent status. These are just several of the many accomplishments highlighted in the campus' new 2018–2019 Annual Report.
Also among the highlights, the Kahuawaiola Indigenous Teacher Education Program became the first teacher education program in the world to receive accreditation from the World Indigenous Nations Higher Education Consortium, the establishment of a new College of Natural Health Sciences, and a prestigious national leadership award for kinesiology professor Harald Barkhoff.
Interim Chancellor Marcia Sakai said, "Our successes are largely due to our talented faculty, staff and students who make UH Hilo a remarkable place of knowledge and learning."
Research highlights include John H.R. Burns, an assistant professor of marine science, who converts 2D images and other data from coral surveys into 3D reconstructions of the reef habitats, using a technique called structure-from-motion photogrammetry; UH Hilo scientists Cheryl Gansecki and Ryan Perroy, who were prominently featured in the January 23, 2019, airing of PBS's NOVA, about the 2018 Kīlauea eruption, highlighting their work on chemistry analysis and aerial monitoring of the flow, respectively; and Jolene Sutton, an assistant professor of biology who specializes in evolutionary genetics, who leads a team of genetic researchers studying the ʻalalā (Hawaiian crow), one of the world's most endangered bird species. Sutton's group released the unprecedented genome assembly for the bird, published in the journal Genes.
Sakai also acknowledged Susie Enright, public information specialist in the Office of the Chancellor, for her significant role in creating the report.