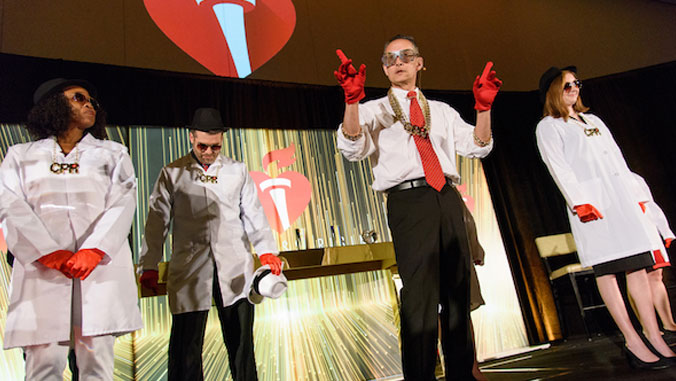 University of Hawaiʻi at Mānoa clinical professor and Kapʻiolani Medical Center for Women and Children pediatric emergency specialist Alson Inaba has been presented the first Innovation at Heart award by the American Heart Association (AHA) at the organization's national Gold Heart event in Dallas, Texas.
Inaba, who figured out that the Bee Gees disco classic "Stayin' Alive" has the ideal beat to do CPR correctly, began using the song in 2005 when teaching UH John A. Burns School of Medicine medical students how to properly perform CPR. A performer himself since his youth as a magician in the islands, Inaba teamed up with AHA to appear on national television news programs and public gatherings to help promote "Stayin' Alive" and "Hands-Only CPR" as a powerful tool to keep hearts pumping.
Describing his innovative teaching to the AHA, Inaba said, "Anyone can do a lecture, I do presentations instead. It's how you present the information that can make all the difference."
Now Inaba is working on a new innovation. He is hoping to update his CPR-set-to-music training tool to a more modern tune for a new generation of doctors and learners. His suggestion: Think Bruno Mars' "Uptown Funk."
"One phrase that Bruno repeats over and over in his song is, 'Don't believe me, just watch,'" Inaba said. "Imagine this scene: Two people see a colleague collapse from sudden cardiac arrest. The first person says to the second, 'Did you know that if I do chest compressions to 'Uptown Funk,' I could save this person's life? Don't believe me? Just watch!'"
Through his advocacy work, Inaba has helped increase CPR awareness and the number of automated external defibrillators throughout Hawaiʻi, including at the state's airports. According to the AHA, "Operation Stayin' Alive" has saved numerous lives since it was established more than a dozen years ago. Spreading the word, Inaba said, is what will truly make a difference.
"If we can get the rest of the country and the world to recognize the vital importance of immediate bystander CPR, we could increase survival rates from sudden cardiac arrest," Inaba said. But he deflects credit for his own life-saving musical ideas. "The real heroes are the ones who have the courage and the compassion to do CPR, to make a difference and save a life."
The American Heart Association contributed to this story.
—By Tina Shelton