A Maunakea Scholar presenting his leading-edge research on a group of stars was surprised with a $10,000 scholarship to attend the University of Hawaiʻi at Mānoa in the fall. Jean Claude "JC" Dumaslan, a recent Waipahu High School graduate, plans to pursue a degree in astronomy.
"The Maunakea Scholars program was a step for me to be able to major in astronomy," said Dumaslan. "I know it will help other people too, to give them that push to become whatever they want to be in the future. If things work out, I hope to someday work on Maunakea."
The $10,000 Hōkūala (rising star) Scholarship is the latest addition to the Maunakea Scholars program, awarded annually to one or more top performing seniors in the program who are going on to study astronomy in college. For students attending UH, the scholarship award also includes an invaluable commitment of mentorship by a leader in Maunakea astronomy throughout each recipient's undergraduate education.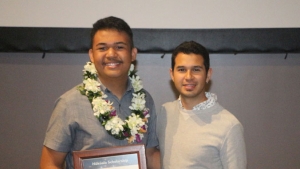 "I have reviewed hundreds of scholarship applications over the years and know the great impact scholarships like this can have on students," said Doug Simons, executive director of the Canada-France-Hawaiʻi Telescope. "It's amazing to see how positively this can impact their lives."
Dumaslan received observation time at the Canada-France-Hawaiʻi Telescope last year and will receive more time this summer at the NASA Infrared Telescope Facility to continue his work—research opportunities professional astronomers compete for worldwide. He is only the second double winner of Maunakea Scholars telescope time in the program's four-year history. Dumaslan studied the spectra of Wolf-Rayet stars and will enter UH armed with observational data from two Maunakea Observatories, a rare and special position for a college freshman.
"As soon as JC received his first observations, he immediately realized that to continue on his project he needed more data in another wavelength of light," said Mary Beth Laychak, outreach manager at the Canada-France-Hawaiʻi Telescope. "That leap to wanting to know more is what sets JC apart and will serve him well in Mānoa's astronomy department."
Maunakea Scholars is a unique partnership between the State Department of Education, UH and the Maunakea observatories.