What started out as curiosity when shown pictures of Kobe, Japan, as a first grader in Seattle, Washington, morphed into a 35-year accomplished career in Japanese literature studies for University of Hawaiʻi at Mānoa Japanese literature professor Bob Huey.
The Japan government bestowed one of its highest honors for a non-Japanese citizen on Huey on July 10 at an Imperial Decoration Conferment Ceremony at the Consulate General of Japan in Nuʻuanu.
Huey was presented the Order of the Rising Sun, Gold Rays with Neck Ribbon by Honolulu Consul General Koichi Ito for his "contribution to the development of Japanese studies in the United States of America and strengthening the friendly relationship and mutual understanding between Japan and the United States," according to the consulate's official announcement.
"As I began to inventory my Japanese studies career, it was really moving to realize how many people make up a career, not just the person who does it, but the team that works with them," said Huey. "So to me, the award validates not me, but the network of people that work together in a common goal."
Said colleague and associate director of UH Mānoa's Center for Japanese Studies Gay Satsuma, "UH has been fortunate to have a phenomenal teacher like Bob. This award recognizes his accomplishments, contributions and commitment to teaching and mentorship, and really building the infrastructure necessary for us to have a world-class Japanese studies program at the University of Hawaiʻi."
Huey joins a handful of UH Mānoa faculty members who have received the Order of the Rising Sun.
More on Bob Huey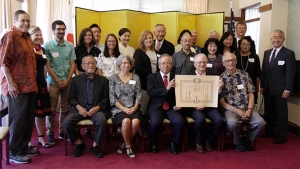 Since 1985, Huey has been a professor of Japanese literature in the UH Mānoa Department of East Asian Languages and Literatures. He is widely recognized for his expertise in classical and medieval Japanese poetry, Japanese culture in the Ryukyu Kingdom and Okinawan studies. He is currently researching how traditional Japanese literature and culture was practiced and deployed in the Ryukyu Kingdom both as a pastime and diplomatic tool. Huey also served as director of UH Mānoa's Center for Japanese Studies.
Huey has received numerous honors and awards for his academic work. He has also moderated, presented and served on panels for hundreds of workshops, conferences and symposiums.
Huey has also authored many works including monographs, The Making of Shinkokinshū and Kyōgoku Tamekane: Poetry and Politics in Late Kamakura Japan. In 2014, he edited English translations of all entries in the Sakamaki-Hawley Collection database published on the University of the Ryukyu's library website.
Huey has also been a member of the University of Ryukyu's Management Council over the last decade and is currently a member of the Urasenke Hawaiʻi Foundation Board and the Crown Prince Akihito Scholarship Foundation Board.
Huey earned his PhD in Japanese studies from Stanford University in 1985 and an honorary doctorate from the University of Ryukyu in 2010.
More about the Order of the Rising Sun medal
The Order of the Rising Sun, Gold Rays with Neck Ribbon, is the third highest honor bestowed by the Japanese government and one of the highest awards for a non-citizen of Japan. Given in the name of the Emperor of Japan, it commemorates distinguished achievement in international relations, promotion of the Japanese culture, advancements in fields, welfare development or preservation of the environment.
See more on previous UH honorees: Satoru Izutsu, Dennis Ogawa and George Tanabe Jr.