University of Hawaiʻi West Oʻahu alumna Janelle Saole remembers thinking she might be a guinea pig, but still enrolled in a barely established program called Creative Media. It was 2014, and the program held promise, but was so new that it lacked a track record.
"Really, there was no credibility to how great of a program it was going to be," said Saole, a composer, music producer and musician. "I took the risk. I took a leap of faith."
The decision paid off well for Saole, who was able to add an array of knowledge and capabilities to her already rich musical skills before graduating in December 2017. Her journey was helped by her faith and an unyielding desire to learn. It also included setbacks, including her mother passing away during her final semester of school.
The expertise and relationships she gained at the Academy for Creative Media–West Oʻahu helped her secure a position as Mission Memorial Auditorium manager and art exhibit coordinator for the City and County of Honolulu. She is the first woman of Samoan ancestry to hold the post.
"Had I not been plugged in to the different outlets of the Creative Media Program such learning sound design and graphic design—all the tools I use today in my current career𔃉I would not be able to succeed in my current position," said Saole, who scored film trailers and worked on the Hawaiian language version of Walt Disney Animation Studios' Moana while at UH West Oʻahu.
Saole arrived at UH West Oʻahu just as the Creative Media program was getting underway. It has since become one of the campus' fastest growing programs and has transfer agreements with the UH System's seven community colleges, allowing creative media graduates from the two-year campuses to complete a four-year degree. In January, ground was broken for a $33.3 million Academy for Creative Media building on campus.
From American Samoa to Kalihi
Saole, 24, was born in American Samoa, but grew up in Kalihi in the Mayor Wright Homes with her parents, four brothers and a sister. She had musical talent and an ability in composition and recording, so after graduating from Sacred Hearts Academy she enrolled at UH Mānoa, then transferred to Honolulu Community College's Music and Entertainment Learning Experience program to pursue an Associate of Science degree in Music and Entertainment Business.
Her plan was to get the two-year degree and go out into the working world. She interned with the Hawaiʻi Academy of Recording Arts before one of her brothers pulled her aside for a heart-to-heart. He said that she should finish what she started and get a four-year degree.
"The craziest thing is I planned it very well up until that point," Saole said. Her review of educational alternatives came down to two choices: Return to UH Mānoa or go to the new UH West Oʻahu program, which had a soft opening of sorts in 2013 and stepped up in fall 2014 with a Bachelor of Arts in Humanities with a concentration in Creative Media. But Saole decided to take a chance and the almost life-long Kalihi resident packed her bags and moved in with a brother who lived in Kapolei. She arrived on campus not knowing anyone and worked to rectify that by volunteering for various campus activities.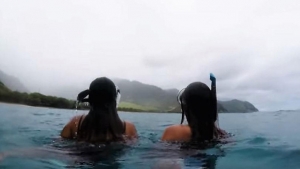 Thriving at UH West
Oʻahu
Saole joined the Samoan Club and served on the Samoan Club Council, sat on the planning committee for the campus' West Fest, and worked on other events, especially those involving music. Her efforts were rewarded when she was recommended as sound manager for PIKO Project events.
Associate Professor of Music Jon Magnussen discovered she produced and did her own music and encouraged her to take part in the production of a trailer shown before movies at the Regal Cinemas Kapolei Commons. Saole composed and played ʻukelele for the trailer's intro and outro. She composed the music for another 90-second short, "A Love Letter from the Ocean," produced by Creative Media students for the theaters and helped blend sounds and a voice-over for the production.
"Janelle was one of those students who took the experiences and opportunities provided by the Creative Media program and made the most of it," wrote Sharla Hanaoka, director of UH West Oʻahu's Academy for Creative Media, in an email. "She rose to challenges both in life and in school and never backed down. We cannot be more proud of her."
Read more about Saole's journey at E Kamakani Hou.
—By Greg Wiles