The sounds of whirring, grating and tapping from drilling, sawing and chiseling fill the air in the "classroom" at Windward Community College. In the converted workshop, the young faces of high school students focus intently on transforming blocks of wood into papa kuʻi ʻai (poi pounding boards) or ihe (spears). Another day, they might be carving a piece of Corian (a plastic, repurposed substitute for animal bone) into a Hawaiian makau (fish hook).
These students are learning traditional Hawaiian carving and earning college credit at the same time, through what's known as a dual-credit program. Twenty-four students from Castle High School and seven from Ke Kula ʻo Samuel M. Kamakau Hawaiian immersion school participated in the wood carving class over the summer.
"It's really fun. I think it's probably my favorite class of all the classes I've taken," said Castle High junior Haley Texeira. "I learned a lot of Hawaiian words and Hawaiian implements."
Cultural context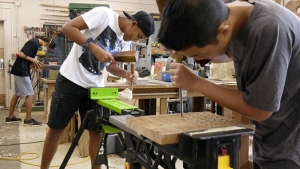 Making sure that the students connect the craft with Hawaiian culture and nature is important to Hawaiian Studies lecturer Jordan Souza, who helped to start the Hawaiian carving classes at Windward CC about 10 years ago.
Souza said, "The indigenous people that once were here had a connection to the land, and the things they made, the implements, are connected to the environment. They don't exist without each other. So to care about one, you have to care about everything."
The HWST 135 : Kālai Lāʻau: Hawaiian Woodwork and Wood Carving three-credit course has surged in popularity and enrollment. Through the summer class, dual-credit high school students planned and created carving projects of cultural relevance and gained deeper insights into Hawaiian cultural use of wood, bone, stone, shell and plant fiber.
Texeira said, "The most important thing I learned was how to properly identify woods or how to properly harvest ti leaf. So it's a lot about learning about the plants and woods that we used, not just how to carve them."
Incorporating math and science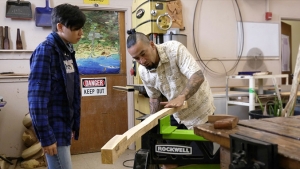 Besides Hawaiian culture and language, the hands-on course incorporated college-level math, science and research. Often, the students don't realize they are doing math and science. They may be asked to figure out how many ihe (spears) they can carve out of a piece of wood, or they may be drawn into a discussion of the feeding habits of benthic and pelagic fish to figure out the best kind of makau (fishhook) to carve in order to catch them.
"We want to make sure that we're capturing their interest," explained Windward CC lecturer Edward Fuentes Jr. "We sneak in a research paper and we sneak in, 'OK, you have to extrapolate this information and you have to calculate this.'"
Former students have gone on to teach traditional Hawaiian carving, both by returning to Windward CC and by striking out on their own, over the decade.
"The important thing is to keep practices alive," said Souza. "If we donʻt keep practices alive, it becomes reserved for just a few. Then it will eventually disappear and die."
Windward CC's Hawaiian carving lecturers are also hoping to expand their academic offerings to meet growing demand.
Fuentes said, "Carvers are going to carve, and we're here to help nurture those traditions, help develop those traditions, and to give a place so that people in our community can carve and learn."
For more on Windward CC's Hawaiian carving classes.
—By Kelli Trifonovitch