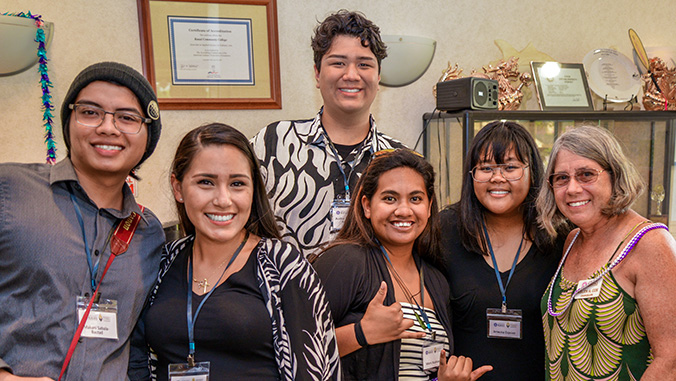 The black and white letters dangling from the ceiling that spelled "Waiʻaleʻale Celebration" contained a surprise. At the end of a joyful gathering in July to mark the pioneering project's 10-year milestone, the words expanded into pastel paper chains featuring the faces of hundreds of Kauaʻi Community College students whose lives have been forever changed by the Waiʻaleʻale Project.
Since 2010, the transformational project has served 786 students, ages 18–66, who would not otherwise have gone to college due to financial, personal or academic obstacles. The project seeks out non-college-bound students through community partners and referrers. In addition to scholarships and academic support, Waiʻaleʻale provides a supportive learning environment with peer mentors to help participants succeed, creating a multi-generational movement.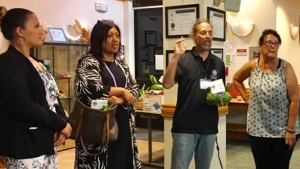 Lisa Rapozo lost her government job in 2008 through a reduction in force. She joined the Waiʻaleʻale Project's first cohort in 2010 and earned her associate's degree in liberal arts from Kauaʻi CC in 2013. Rapozo said she had been out of school for many years and feared she would not be able to balance everything out. The project put her fears to rest.
"It just gives us a sense of belonging, a sense of purpose, a sense of ʻohana. It's like my second family," Rapozo said. "Without the project, I wouldn't be where I am today."
She is currently working on a master's degree in social work from the University of Hawaiʻi at Mānoa and expects to graduate in May 2020. Her son, Jaimie Kaimi Gonzalez, is a member of the Waiʻaleʻale Project's Cohort 8 and is also on track to graduate from Kauaʻi CC in 2020 with his associate's degree in liberal arts.
"This project has actually brought us closer," Rapozo said. "I have a younger son, heʻs 10 and he's already talking about college. I bring him to campus. He knows what school is. He's so excited that Kaimi is in school."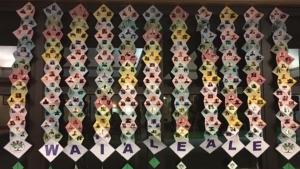 Waiʻaleʻale students persist to their second year of college at a higher rate than their non-Waiʻaleʻale peers. Almost 300 Waiʻaleʻale Project students have earned a bachelor's or an associate's degree and/or a certificate. Thirty one are currently pursuing baccalaureate degrees, and Rapozo and another student are pursuing master's degrees.
More about the Waiʻaleʻale Project.