Students from Kapiʻolani Community College, the University of Hawaiʻi at Hilo and UH Mānoa competed well at the 42nd Annual Health Occupation Students of America (HOSA)—Future Health Professionals International Leadership Conference in Orlando, Florida. The national conference's 11,525 delegates included HOSA's international chapters from American Samoa, Canada, China and Puerto Rico.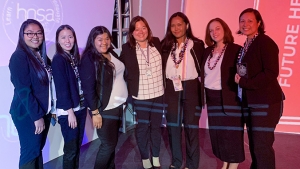 Kapiʻolani

Community College
Janci Sakuma, Medical Assisting, 2nd place
Irene Ruby Navasquez, Medical Spelling, 6th place
Winmae Duldalao, Medical Assisting, made it to round 2
Kelsey Nakamoto, CPR and First Aid, made it to round 2
Ashley Rimando, CPR and First Aid, made it to round 2
Charletta Wilson, Nursing Assisting, made it to round 2
Mae Dorado, Advisor
UH Mānoa
Josephine Kaohi, Prepared Speaking, 4th place
Lacye Yata, Prepared Speaking, 9th place
Alden Chong, Sports Medicine, 5th place
Thomas Guo and Aime Le, Public Health, 7th place
Brycen Kawamoto, ran for executive council
UH Hilo
Daniel Kimura, Medical Terminology, top 10 finish
Travis Taylor, National Geographic Learning Academic Testing event of Human Heredity, top 20 finish; presided as the

Hawaiʻi

HOSA Postsecondary/Collegiate Voting Delegate in the election of the upcoming International HOSA Executive Council.
The UH Hilo HOSA Chapter was also recognized for its participation in the HOSA Happenings event, in which local chapters are required to submit a newsletter showcasing their activities and achievements.
More about HOSA
HOSA is an international student organization recognized by the U.S. Department of Education and the Health Science Education Division of the Association for Career and Technical Education. HOSA provides a unique program of leadership development, motivation and recognition exclusively for secondary, postsecondary, adult and collegiate students enrolled in health science education and biomedical science programs or have interests in pursuing careers in health professions.