This column by University of Hawaiʻi at Hilo Chancellor Bonnie Irwin first appeared in the Hawaiʻi Tribune-Herald on Sunday, August 18, 2019. It is the first of what will be a monthly column by Irwin in the Tribune-Herald.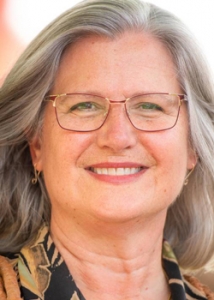 I've been thinking a lot lately about home and how we define it. For me this summer, the true sense of home came, curiously, with the arrival of our cars.
To drive to my new house in that familiar vehicle and especially to reset the "home" address to Hilo on my GPS meant that we are kamaʻāina now. I often set the GPS when I drive, even when I know where I am going, to give me a sense of how far and how long I will be on the road; there is something about that voice saying, "calculating route to home," that brings me comfort after being away, even if it has just been for a day.
My favorite thing to do as I settle into a new place is to explore through the lens of my camera, whether I focus on a pretty flower in one of the many gardens around the island or a perfect sunrise or sunset. I find that when I look through a lens, I sometimes see things that I would not notice with the naked eye.
All my hometowns had their own beauty, but Hilo and Hawaiʻi Island have their own special beauty that still stuns me every day: the lush green, the wondrous orchids and hibiscus, and the many forms that the lava takes are each remarkable in their own right and contribute to my love for my new home.
So now that Hilo is home, we have begun to explore the city and island when we have time. My husband and I went to Volcano for the inaugural "Experience Volcano" event and appreciated the cooler climate and the arts community we encountered there. This weekend we will drive up the Hāmākua Coast and over to the leeward side to explore Kailua-Kona. We have spent time walking at Liliʻuokalani Gardens, relishing the serenity and seeing families enjoying that lovely park right here in town. We went to the DMV in Pāhoa and stopped for a delicious lunch before heading home. Indeed, restaurants and farmers markets are some of my favorite ways to explore.
So many places to try and people to encounter. We have moved from the land of corn and soybeans to the land of lettuce and strawberries to the land of lychee and mangoes!
We have greatly appreciated the warm welcome we have received from the campus and the community. We have met so many people who care so deeply about this place and one another, whether they have been here their whole lives or have only been here for a few months.
The dedication to this place that we have all chosen to be our home is the strength of this community, and, I believe, the way forward for the future of Hilo and Hawaiʻi. I am looking forward to creating opportunities for the University of Hawaiʻi at Hilo to partner with businesses, schools and community groups across the island to further improve our home, and, above all, to provide the best experience for our students that we can.
This week, we welcome new students, faculty, and staff to UH Hilo. Some of these new members of our ʻohana are new to the island. The students may be just temporary residents, but we want to make sure that they feel as welcome as I have felt these last few weeks.
We also want to nurture in them the love for place and community that we all share. I am so excited to welcome our new Vulcans, and I am sure the community will be seeing the new students out and about while they calculate their route to this new home.
It is a new adventure in a new place. Even for those students who have lived here their whole lives, they will now be looking at home through a new lens. Their success is our success, and their future is also the future of our island. Greet them with aloha and help them find their way!
Mahalo nui.