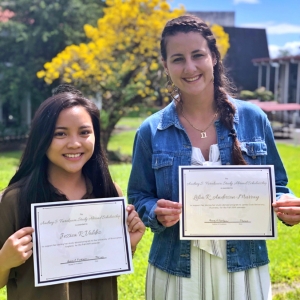 Two University of Hawaiʻi at Hilo students were awarded the Audrey S. Furukawa Study Abroad Scholarship for fall 2019. The scholarship was created to provide UH Hilo students with an opportunity to begin their global education.
Lilia Anderson-Murray is currently attending James Cook University in Townsville, Australia. She is a marine science major, communication minor and a graduate of Kailua High School.
Jessica Valdez, a graduate of Hilo High School, will be attending the University of Birmingham in England where she will take courses to complement her psychology major and philosophy minor.
"Lilia and Jessica are outstanding UH Hilo students, and this scholarship will provide them the opportunity to develop a greater global perspective through international travel," said Carolina Lam, UH Hilo director of global education.
More on the Audrey S. Furukawa Study Abroad Scholarship
During Audrey Furukawa's 30-year career as an administrator and educator at UH Hilo, three personal core values have driven her: family, friendship and opportunity. With the help of her family and friends, she is giving others in her community the opportunity to study abroad.
"I wanted to act on my belief in the personal transformational impact of global education and its ultimate outcome in achieving world peace," said Furukawa.
Recipients must have a minimum 3.2 GPA with preference given to Hawaiʻi high school graduates.
To contribute to the Audrey S. Furukawa Scholarship Fund, go to the UH Foundation website. For more on UH Hilo's study abroad program, go to the program website.