A love of running sparked Maryknoll High School senior Travis Nakasato to lead a successful beautification project at the University of Hawaiʻi College Hill president's house.
Nakasato had been running past College Hill in Mānoa during cross country training for Maryknoll. "I run near the property, and I noticed the hedge deteriorating over the years," said Nakasato.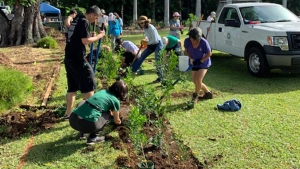 Nakasato spearheaded the College Hill Hedge Beautification Project, a community partnership between UH building and grounds maintenance, the UH Campus Arboretum, Mānoa Outdoor Circle and Mālama Mānoa. He raised enough money to purchase 200 mock orange plants.
Getting the plants was only part of the project, and on August 3, Nakasato led more than 25 volunteers who spent the day planting the mock oranges around the historic Mānoa property.
"Travis is an inspirational individual," said Roxanne Adams, director of UH Mānoa buildings and grounds management. "He saw a way he could help restore part of College Hill and set about making that happen."
Donations for the plants came from the Mānoa Outdoor Circle, Mālama Mānoa and several individuals. Lunch and refreshments for the volunteers were provided by Council Member Ann Kobayashi and state Rep. Dale Kobayashi, and buckets and rakes were supplied by state Sen. Brian Taniguchi. Tools, tents, tables and chairs were brought by Nakasato's family and friends.
"I feel privileged to have the opportunity to give back to the community I love," said Nakasato.