Bonnie D. Irwin took the reigns of the University of Hawaiʻi at Hilo as chancellor on July 1, 2019, amid a traditional Hawaiian appointment ceremony that included the blowing of pū (shell), hula and an offering of special water.
"I find that spirit in Hawaiʻi to be so powerful—the idea of ʻohana, of community and that everyone is interconnected," Irwin said. "It's a great way to help students so they feel that they are nurtured. They are part of something bigger than themselves, as we all are."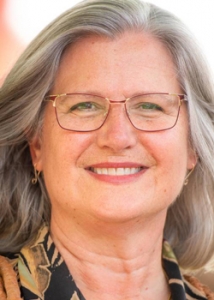 She elaborated on her vision in a recent column published in the Hawaiʻi Tribune-Herald.
"The dedication to this place that we have all chosen to be our home is the strength of this community and, I believe, the way forward for the future of Hilo and Hawaiʻi," Irwin wrote. "I am looking forward to creating opportunities for the University of Hawaiʻi at Hilo to partner with businesses, schools and community groups across the island to further improve our home and, above all, to provide the best experience for our students that we can."
UH Hilo worked on a new strategic plan last year. Irwin said this year they will implement that plan, asking, "How can we focus the immense goodwill and skills and ability of this campus and its community to move the institution forward?"
Her first priority is the UH Hilo students. While improving graduation rates is one measure, she wants to create successful, productive members of the community.
"We have a lot of people that I think the university could help to a greater extent than it is now, and part of being a regional comprehensive university is helping the region move forward as well," she said.
Irwin has more than 30 years of experience in higher education, and last served as provost and vice president for academic affairs at California State University Monterey Bay (CSUMB). She sees similarities with her former students. About 40 percent of CSUMB's students were Latino, most of whom were bilingual. At UH Hilo, there are bilingual students who speak Hawaiian at home, which she sees as an asset.
Student success leads to family success and helps the whole community to move forward. "I see [education] as a sacred mission," Irwin said. "I love working in higher education because we get to transform students' lives."
—By Kelli Trifonovitch