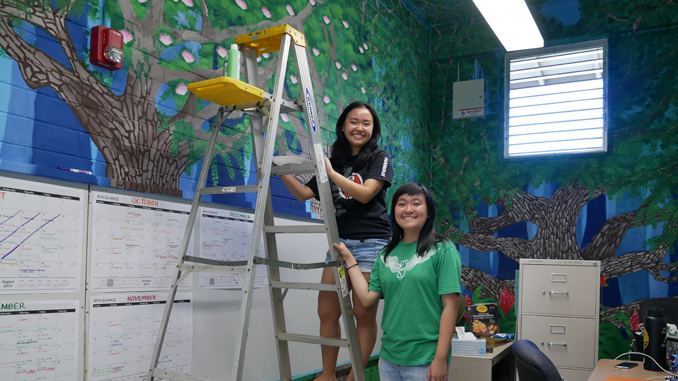 A simple idea to change things up created a memorable summer project for two University of Hawaiʻi at Mānoa students and their mom.
When Jan Ishikawa and Lori Teruya wanted to make their shared office at Maʻemaʻe Elementary School more fun, they decided a mural would do the trick.
Jan had just the people for the job: her daughters, UH Mānoa studio art major Jaci Ishikawa and freshman Jayni Ishikawa, who were always interested in art. "I asked my girls if they were willing to paint the mural, and what started as a small project kinda grew into a big one," said Jan. The mural ended up covering all the office walls and ceiling.
Jaci and Jayni, who both attended Maʻemaʻe in the Liliha area, were excited about the project. "While it is special to be painting this mural at my former elementary school, what makes it even more special is that this project is for my mom," said Jayni.
Everyone agreed that the school's iconic monkeypod trees should be incorporated into the mural. The trees are a special part of the campus and are even mentioned in the school song. "We wanted to capture the spirit of Maʻemaʻe Elementary," said Jaci.
Honoring Studio Ghibli
The Ishikawas are also big fans of Studio Ghibli, a Japanese animation film studio known for movies such as My Neighbor Totoro, Spirited Away and Princess Mononoke. Some of the studio's characters were incorporated into the mural as well. Studio Ghibli's stories often honor the themes of conservation and beauty of nature.
After a few sketches and drafts, Jaci and Jayni structured a basic layout of the ceiling and wall designs and went to work. The school's custodian painted the base walls blue and the Ishikawa family began the project soon after school let out for the summer. They worked on the mural two to three times every week for four to six hours at a time. The Ishikawas even recruited Jazlyn Shimabukuro, Jan's niece, to join the mural team.
It was the first time Jaci had painted anything of that scale. "I have worked with acrylics before but only on canvases or regular paper. These tall, porous stone walls are definitely different," said Jaci. "Even though my sister and I aren't used to the material, we enjoy working with something new."
Applying art lessons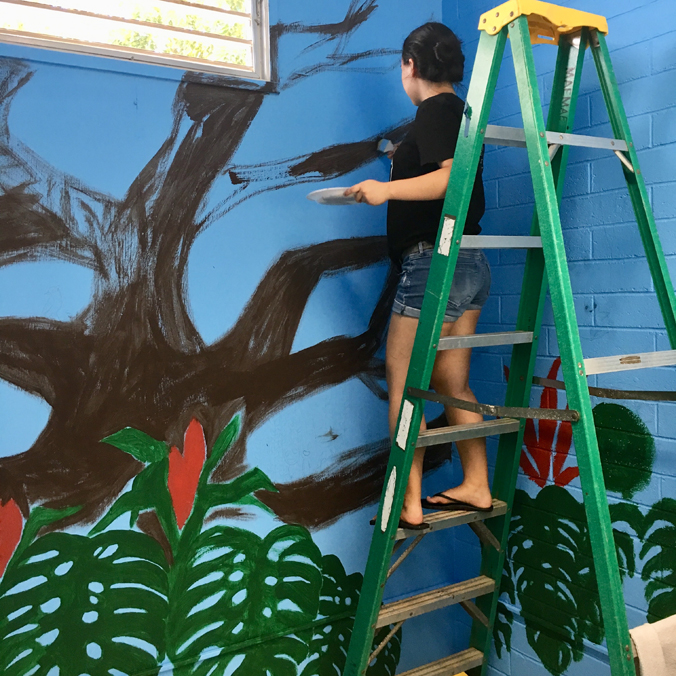 Throughout this project Jaci said she utilized what she had learned in her art classes at UH Mānoa and Hawaii Baptist Academy. "Composition and how light would affect the colors and shading of the plants, time management, setting goals for the day and perseverance were some of the concepts I applied to my mural painting sessions," she said.
Because of the size of the project, Jaci said staying motivated was a challenge: "There were times when my work wouldn't turn out the way I envisioned it, which frustrated me. It's always best to take a break and return to it later, even if it means coming back another day. I believe that the best art comes naturally, rather than being rushed or forced."
Although the mural is not quite complete, students and staff were thrilled to see it when school began at Maʻemaʻe. The Ishikawas have some touch-up work to do and continue to work on the mural even though school also started up at UH Mānoa for Jaci and Jayni.
Jayni, who wants to major in creative media and work in animation, is looking forward to her first semester at UH Mānoa. "I'm excited to begin my college years and look forward to expanding my knowledge and experiences," she said.
Now that the mural is a hit, Jaci and Jayni have received another request—the principal wants a mural for the main office.
Their mother is moved by the ask. "When I step into my office each morning and reflect on the mural, I'm grateful to my principal for approving and supporting this project from the get-go," said Jan. "This project has truly been a blessing. I am continually in awe of their talent and creativity and how they took the blank walls and made it into a masterpiece."
—By Tracy Matsushima