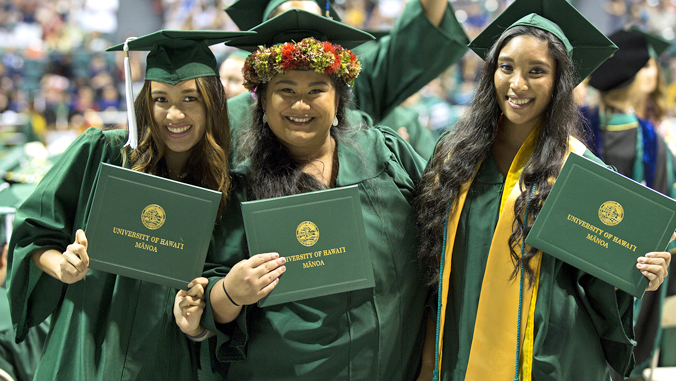 What makes the University of Hawaiʻi at Mānoa different from other American colleges? According to the UH Mānoa provost, it comes down to a values system that celebrates ʻohana or family, a term extended to non-family community members who students honorifically call "aunties" and "uncles." That inclusive and appreciative aloha spirit is exemplified at every commencement ceremony, said Provost Michael Bruno.
Bruno's description of the overwhelmingly emotional experience of UH Mānoa graduation is featured in a new national podcast series, "Zip Code Economies," narrated by Mary C. Daly, president and CEO of the Federal Reserve Bank of San Francisco. The first five episodes in season one were released this summer.
The provost was interviewed in the August 13 podcast, "Searching for ʻohana."
"Family here is very, very important. And family means a very extended family, who are called aunty and uncle, that can be a relative or an honorific," Bruno said. "It's just one of the things that I love about commencement. The (Stan Sheriff) arena is just full, almost every graduate has a tremendous cheering section and they're buried in leis. The pile of leis goes up to their head. It's funny, it's endearing."
Because the provost and UH President David Lassner are onstage congratulating every graduate, they see everybody who walk up in their caps and gowns to claim their diplomas. And the significance of the achievement is sincerely valued by the successful students, said Bruno.
"If you look into their eyes, every one, you can tell they all have a story. The faculty all know this, the faculty all come," he said. "Every commencement speaker is just blown away by the unique atmosphere in the arena. One of our commencement speakers said it right. She said, 'They're so authentic. Nobody took it for granted.' That's probably the coolest thing about commencement."
'We're more like beef stew'
Also sharing views on the 30-minute podcast is an unidentified UH Mānoa student, who explains that the diversity of the student population—and of Hawaiʻi in general—is an advantage that leads to a welcoming experience. While the state has been historically described as a melting pot of cultures, the student said UH Mānoa and Hawaiʻi are actually more like "beef stew."
"There's really no majority or minority group here that can dominate over the other," the student said. "It's not like a melting pot, where everything mixes together into a gray sludge. It's more like a beef stew: They're all great ingredients on their own, and they all come together and make something better."
The San Francisco Fed represents the largest and most diverse district within the Federal Reserve System. To listen to podcasts, see the Zip Code Economies website or look for it on Apple Podcasts, Stitcher or wherever podcasts are streamed.