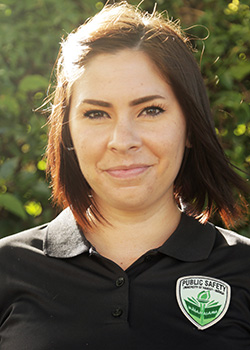 University of Hawaiʻi at Mānoa Department of Public Safety (DPS) Sarah Rice became the first person in the state to become certified through the National Association of Clery Compliance Officers and Professionals (NACCOP). Rice serves as the DPS community programs manager and Clery coordinator.
The Jeanne Clery Act, a consumer protection law that aims to provide transparency around campus crime policy and statistics, is a complex and ever-evolving federal law.
Clery Compliance Officer certification enhances an institution's ability to manage Clery Act compliance, and ensures mastery of the essential skills to effectively lead the institution's Clery Act compliance program.
"This is an outstanding achievement for Sarah and for this campus," said DPS Chief Andrew Black. "To achieve certification Sarah completed a rigorous two-year training program. She has worked hard to ensure we are in compliance with federal regulations and that vital information is made available for the campus and community."
The NACCOP Clery Compliance Officer Certification Program is designed to enrich the knowledge base of practitioners involved in Clery Act compliance activities by providing the industry's premier professional development program and credential. NACCOP offers this educational opportunity in order to elevate and distinguish practitioners and institutions by creating excellence in the technical and systematic aspects of Clery Act, Higher Education Opportunity Act, and Violence Against Women Act compliance.