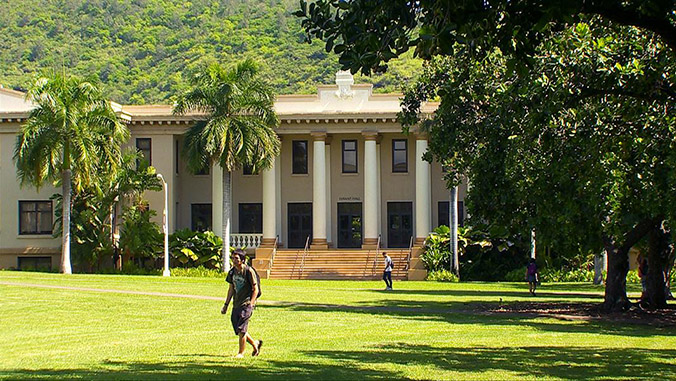 U.S. Secretary of the Navy Richard Spencer has approved the creation of a Naval Reserve Officer Training Corps (NROTC) program at the University of Hawaiʻi at Mānoa.
The announcement followed years of advocacy to establish such a program by Hawaiʻi's congressional delegation, including U.S. Sen. Mazie K. Hirono, ranking member of the Senate Armed Services Subcommittee on Seapower, and U.S. Sen. Brian Schatz, ranking member of the Senate Appropriations Subcommittee on Military Construction and Veterans Affairs.
"We are grateful and proud that the Navy has selected UH Mānoa to host a new NROTC unit," said UH President David Lassner. "We are already the home of exceptionally successful Army and Air Force ROTC units, and the establishment of a Navy ROTC unit will provide scholarship opportunities that enable more Hawaiʻi students to attend college affordably and serve their country. Our thanks to Senator Hirono, Senator Schatz and our entire congressional delegation for their sustained support."
"The long-awaited establishment of a Naval ROTC program at UH Mānoa underscores the Navy's commitment to the Indo-Pacific region and represents a tangible step toward increasing the diversity of its officer corps," said Hirono.
Added Schatz, "I thank Secretary Spencer for his partnership and his recommitment to the Navy's long-standing relationship with Hawaiʻi."
The Army and Air Force ROTC programs are under the jurisdiction of the Office of Undergraduate Education.
—Based on a U.S. Senate press release